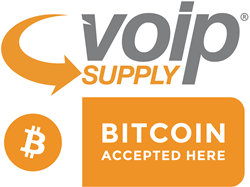 "I'm excited to see a new platform that is usable as both global currency and payment system with easy integration into today's systems of commerce." - Ben Sayers, VoIP Supply CEO
Buffalo, NY (PRWEB) February 27, 2014
VoIP Supply is announcing today that starting on March 1, 2014 customers can begin using Bitcoin for VoIP Supply orders.
For over 10 years VoIP Supply has been North America's leading supplier of VoIP solutions, helping businesses reduce costs and increase efficiency by transferring voice and data over the internet.
As a company that stays on the leading edge of technology, VoIP Supply is proud to play a role in the growing retail movement to now help transfer something else over the internet; digital currency.
Customers using Bitcoin at VoIP Supply will benefit from:

Quick Payments: Typical international wire transfers can take up to 10 days. Bitcoin can reduce the same transaction to minutes.
Large Orders Simplified: Businesses or individuals placing large orders with credit cards are sometimes met with limitations from those companies. Bitcoin does not have the same restrictions.
Reduced Fraud: There is a reduced risk of fraud with Bitcoin transactions since credit card data is neither transmitted nor stored.
"I'm excited to see a new platform that is usable as both global currency and payment system with easy integration into today's systems of commerce," said Ben Sayers, CEO of VoIP Supply.
For more information about purchasing with Bitcoin at VoIP Supply please call 800-398-8647 or visit http://www.voipsupply.com/bitcoin.
About VoIP Supply
We are a place of uncovering, cultivating and developing leaders. A world class place to work with big goals, a clear vision, defined purpose and a dedicated team of passionate business professionals. We love what we do and do it better than any of our competition.
Since 2002, VoIP Supply has been the leading supplier of VoIP equipment and complete VoIP solutions in North America. We are known in the industry as responsive and knowledgeable VoIP product experts.
With everything you need for VoIP, VoIP Supply has grown rapidly throughout the years. VoIP Supply is a three-time Inc. 500/5000 honoree, listed by Business First as one of WNY's Most Admired Companies, as well as one of Western New York's Best Places to Work for many consecutive years, including 2012. VoIP Supply is also the first Certified B Corporation in Western New York.