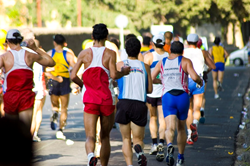 The run is not a race, but an activity to bring people together that want to contribute in the effort to fight the most significant diseases of our time
Miami, FL (PRWEB) February 28, 2015
The World Scout League Commission (WSLC), an organization that provides training and learning materials to potential EMTs and firefighters, recently announced its decision to host an international run for Bitcoins as a way to raise charitable donations for age-related research. The five-kilometer race, which starts and ends in Medellin, Columbia, will be held on March 29, 2015; registration will start at 2 p.m. and the run will begin at 3:30 p.m.
To participate in the race, runners have to pay a fee, equivalent to $20, in Bitcoins. According to a representative of The World Scout League Commission, the race's proceeds will be used to help fund research on the number one illnesses that kill humans today: heart disease, strokes, and cancer. The World Scout League Commission plans to divide the donations and split the money between certain research projects, mainly those who have the highest potential to eliminate the three illnesses.
"The run is not a race, but an activity to bring people together that want to contribute in the effort to fight the most significant diseases of our time," stated an article on The World Scout League Commission's website. "At the WSLC, we have come to recognize our influence within the healthcare community and we hope to use that influence to increase funding for much needed healthcare research."
Although the race is only taking place in Medellin this year—it begins in Pinar del Río, barrio Manila, Medellin, Colombia and ends in Lineal Ciudad del Rio Park, district of Ciudad del Río, Medellin, Columbia— The World Scout League Commission hopes to add other activities to the Bitcoin run in future years. The organization is developing an idea that allows people who cannot physically participate in the races to donate through Bitcoin games.
Individuals interested in learning more about The World Scout League Commission and its work can visit the organization's website for more information. Readers are also welcome to contact WSLC with any questions, comments, or suggestions using the form available on its website.
About The World Scout League Commission:
The World Scout League Commission (WSLC) is an organization centered in providing instruction for Emergency Medical Technicians (EMTs) and Firefighters. They also provide a series of free materials for new students who have a desire to become EMTs. For more information, please visit http://www.worldscoutleague.com.