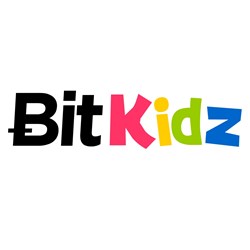 Why use Bitcoin? It is digital, practical, cheaper, safer, more secure and global.
Los Angeles, CA (PRWEB) November 13, 2013
Best-selling authors and bloggers Ponn, JuJu (13), GiGi (12) and JoJo (10) Sabra today announce the "Bitcoin for Kids" Series to motivate moms and kids to use Bitcoin. The digital currency can be sent by anyone of any age, in any amount, to anywhere in the world, anytime of the day or night. Using Bitcoin is as easy as sending an email or SMS/text message. It's an ideal teaching tool for kids.
"We want to help make Bitcoin more mainstream by showing families how easy and fun it is to use," said Ponn Sabra. The Sabras created the website http://bitkidz.com, the first to teach Kids about Bitcoin. "We created the first Bitcoin-for-kids website, the only Bitcoin forum for kids, and our book series will be used to teach kids in the classroom and online," said Ponn.
The Introductory book features the first published case study of kids using Bitcoin.
The Bitcoin for Kids book series includes:
Bitcoin for Kids Primer: Kids Making Money Online
Book 1: Putting Money in Kids' Hands Today For a Better Tomorrow
Book 2: How to Earn, Save, Spend and Share Bitcoin - Easy, Fast and Fun Step-by-Step Tutorials
Book 3: Wise Words from the World's Best Bitcoiners
The books can be purchased with Bitcoin (or with fiat currency through Amazon). The free Primer can be found at http://bitkidz.com/bitcoinforkids.
In the process of educating kids, they also hope to counter common myths about Bitcoin. "People stay away from Bitcoin because they either believe it's too volatile, attracts criminals, or, they think Bitcoin is so high-tech that the average person won't be able to understand it," said Sabra. "While there's some truth to those extreme statements, by writing a book series by kids for kids we're demonstrating that if kids understand Bitcoin, so can others!"
Bitcoin* Giveaway Contest
The Sabra's are hosting a Bitcoin Giveaway Contest during the first week of the book series release, November 13 - 19, 2013. The Grand Prize will be 0.25* BTC and a digital copy of The "Bitcoin For Kids Trilogy" ($7.97 value). To encourage families to have fun watching the Bitcoin market value, the *Grand Prize will be based on November 19th's average rate to be no less than $70 or the full amount of 0.25 BTC transferred to the winner's Bitcoin wallet. Current rate: $87.
Generous bitcoiners are welcomed to donate to increase the 0.25* BTC Grand Prize at Bitcoin address: 18FU644xiZ7TAEhVGKPDEhmuYvgnmNiPge.
The Second Prize is a $50 gift card from Gyft.com.
The Bitcoin for Kids series was recently selected as curriculum at The Bitcoin Academy and the Bitcoin Bootcamp after school program. The Sabras conducted months of research and interviewed kids already using Bitcoin. In their research, they found kids who have made significant returns. Each kid they interviewed said Bitcoin has changed their lives.
10% of proceeds from BitKidz.com and the "Bitcion for Kids" book series will be donated to SeansOutpost.com (5%) and TheBitcoinAcademy.com (5%). An additional 5% during the month of November 2013 will be donated to the Philippines Typhoon victims via World Food Program.
The Sabra's are available for interviews via Skype, Google-Hangout, or email.
About Ponn Sabra and the Sabra Sisters
"Bitcoin for Kids" was written by bestselling authors Ponn Sabra and The Sabra Sisters http://SabraSisters.com - JuJu (b. 2000), GiGi (b. 2001), and JoJo (b. 2003). The Sabra Sisters are three bestselling tween authors making learning fun through books and blogs.
As world-traveling homeschoolers who love to learn, they started blogging in 2008 to improve their writing skills by publishing tips and tutorials. Since 2010, they've been making money online as professional bloggers, website designers, and infoproduct developers. Presently, they are bestselling authors to ten kid kindle ebooks, own eight blogs, and now avid Bitcoiners at BitKidz.com and http://BitMomz.com.