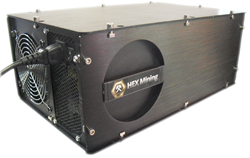 Best in Class PetaHash ASIC Managed Mining Solutions
Reno, NV (PRWEB) June 11, 2014
HEX, best in class managed Bitcoin mining service (http://www.hexmining.com) can help set up and configure security and Bitcoin servers, and allow a client choose from a number of hardware, equipment insurance, and miner controllers. HEX Mining can help clients get started with Bitcoin mining by picking up the hardware from their manufacturing facilities, and setting up the servers at a specialized data center, so anyone can get started with a mining business through a turn-key supercomputing solution right away.
When looking to enter into the Bitcoin Mining Industry, the main objective is to achieve the highest return on investment. Some choices are to either take on the hardware, location & electric costs independantly, or to consider a Bitcoin Mining Cloud Solution with HEX Mining.
Bitcoin Earnings:
HEX Mining offers the best revenue splits in the industry for services. There are no machines to worry about. First and foremost the clients initial investment will be paid when all the Bitcoins that the machines have produced have satisfied the initial payment.
HEX's Bitcoin mining services (http://www.hexmining.com) can help people save money on shipping and setup costs, while also providing the security to keep Bitcoins and the location of the mining servers, confidential to protect the new source of income.
About HEX Mining
Contact HEXMining today to learn more about our managed bitcoin mining services (http://www.hexmining.com). There is simply no better way to start up a Bitcoin Mining business than our turn key full service platform. With HEXMining managed mining services, there is no need for a Bitcoin mining supercomputer, no need for high electricity bills and also no need for Bitcoin mining knowledge. You just need to know us.
Today HEX Mining has both Bitcoin hardware and managed Bitcoin hardware solutions. Products come in both TeraHash & PetaHash processing speeds. As the industry gets more competitive they will continue to secure the right relationships to keep in line with evolution of the cryptocurrency industry. Currently the demand is extremely intense and the pressure is on the manufacturers and distributors to deliver the goods. And that's exactly what HEX has set out to accomplish.
HEX Mining accepts payments in the form of checks, wire transfers, and of course Bitcoins. HEX Mining is also proud to be an Escrow.com seller, which arms consumers with confidence during their transactions.
HEX Mining
webmaster(at)hexmining(dot)com
Phone: (877) 804-7671
Website: http://www.hexmining.com