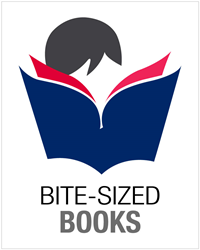 The Books You Can Read Between Meetings Without Ruining Your Credibility
London, England (PRWEB UK) 27 November 2015
The vision for Bite-Sized Books was of an organisation that's a writers' collective – and from the feedback received, this idea has turned out to have had a very powerful message. After only a year of badgering people to write their short book, the target of 20 titles for our free Amazon books promotion has been reached.
So, what's different about BSB's books? In under an hour, you will learn the language and methods of the subject and discover the means to achieve your ends. The information in these books comes from people who have been successful using their approach. Not comprehensive – just practical, sensible and concise advice - the best kind of advice.
Paul Davies (Founder) said, "I have been writing books for years and realised that there was a need to cut to the essence and distil a subject into a few pages. I knew that many of the people I've met over the years had a story to tell and the ability to tell it succinctly and powerfully, so I asked them to put pen to paper with the instruction to ensure their book could be read inside an hour. I am very excited that these folk are finally published and that this promotion will open up their worlds as authors - not to mention what the readership will gain.".
Bite-Sized Books have retained business authors who are expert in their fields, having worked in their speciality areas for significant periods. They have helped many organisations transform the way in which they operate, and worked with many managers and executives to help them achieve their business and personal objectives. Our authors of the Lifestyle and Public Affairs books are similarly selected for their personal insights, their refreshing views and their ability to graphically convey the full range of their experience and provide insights into ways forward.
Matthew Brown (ICT Director) recently joined the company, commenting, "I bought into Paul's idea when he asked me to write a book for BSB. I have always appreciated brevity and hate wading through repetitious and verbose documents to find the salient facts. Bite-Sized books seemed to fit in with my way of thinking - less is more.".
Davies expanded, "We thought about the importance of coping with a stressful business life and decided to complement the BSB range of Business books with books on Lifestyle and Public Affairs that had the same ethos of conciseness.".
The full Bite-Sized Books story is available at http://www.bite-sizedbooks.com.
.