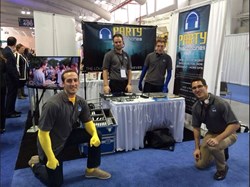 ...it's an amazing way of listening to live music and something you have to experience yourself to understand.
New York, NY (PRWEB) October 31, 2013
Event innovation startup Party Headphones announced the debut of their unique event concept at the Biz Bash IdeaFest 2013 held at the Jacob K. Javits Convention Center in New York, New York. The event showcased presentations by the country's top event professionals, with Party Headphones offering silent disco – a new trend where live music is broadcast to wireless headphones.
According to Alex Woloshin, COO at Party Headphones, silent disco events are fast growing in the US after starting in Europe 10 years ago. At these events, rather than playing music through a traditional speaker system, audio is broadcast directly to the ears of the audience using wireless headphones. "If you think it sounds ridiculous – it is" says Woloshin. "But it's an amazing way of listening to live music and something you have to experience yourself to understand."
The debut of the silent disco technology at IdeaFest 2013 comes in conjunction with the recent launch of Party Headphones' Pro Gen III wireless headphone system in the US. The company showcased the silent disco headphones by throwing ad hoc parties throughout the event with participants from other exhibitors on the showroom floor.
"There couldn't have been a better place to launch our new product," said Jacob Reisch, CEO at Party Headphones. "BizBash brings together top influencers in the live entertainment industry and helps connect event professionals from all over the country with the most up to date products and services."
Party Headphones launched their first product in June with the introduction of their wireless headphone rental packages. IdeaFest 2013 is the first convention to introduce the firm's newest line of headphones for professional event use.
ABOUT BIZBASH
BizBash Media is an innovator and resource hub for the event and meeting industry with its Web site, magazines, and trade shows. Event organizers responsible for events such as White House state dinners and the Oscars, as well as conferences, trade shows, fund-raisers, and more use BizBash products regularly for ideas and best practices that can be implemented at their own events. Visit us at http://www.bizbash.com, and follow us at @BizBash_News and http://www.facebook.com/bizbash.
About Party Headphones
Party Headphones specializes in helping event professionals host unforgettable silent disco events by offering premier wireless headphone technology. All systems are simple to use and connect to laptops, mixers, iPods and high-end stereo equipment. Visit http://www.PartyHeadphones.com for more information on silent disco equipment and upcoming headphone events.