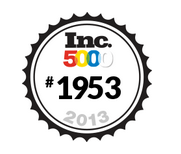 Dallas, Texas (PRWEB) October 16, 2013
BizNet Software, a market leader for Microsoft Excel™ in-memory reporting and business intelligence, has been listed by Inc. magazine as one of the top 5,000 fastest-growing private companies in the United States. The company experienced revenue growth of 152 percent over a three-year period from 2009 to 2012, ranking BizNet Software at #1,953 out of the 5,000 listed companies. BizNet Software also placed #17 in Metroplex Technology Business Council's Fast Tech Top 35 Fastest-Growing Technology Companies in the Dallas/Fort Worth Metro Area.
BizNet Software designs and distributes Excel-based reporting and business intelligence for businesses seeking real time data consolidation and reporting in an easy to use suite of tools. BizNet Software uses the power of Microsoft Excel to create reports and the company's own Excel Suite to connect, analyze, and share real time information in a drag and drop user environment.
"As an organization that thrives on the energy we build together, we're excited to have delivered another great year of tremendous growth," said George McMann, Founder and CEO of BizNet Software. "Our revenue growth is a testament to the effectiveness and talent of our team as well as our innovative and intuitive software."
Companies on this year's Inc. 5000 list have created over 520,000 jobs in the past three years and aggregated revenue of $241 billion. The 2013 Inc. 5000 are ranked according to percentage revenue growth from 2009 to 2012. Complete results of the Inc. 5000, including company profiles and a sortable database, can be found at http://www.inc.com/inc5000.
About Biznet Software
BizNet Software®, Inc. (BizNet) is a market leader for Microsoft Excel in-memory reporting and business intelligence. Founded in 1996 to take the mystery out of databases, BizNet focuses on Microsoft Excel reporting solutions guided by financial and business professionals with a real-world understanding of corporate financial, operational and technical requirements. The BizNet Excel Suite is the most innovative and intuitive reporting solution on the market. It creates a user-friendly, drag and drop environment with live, real time access to the most accurate and current data. Built upon fundamental business disciplines and controls, BizNet solutions make it easy for Microsoft Excel users to connect, analyze and share real time information. BizNet Software is endorsed by over 200 partners, 10 software publishers, and top industry analysts and currently has over 13,000 users in over 1,900 companies in 30 different countries.
Microsoft® and Excel® are either registered trademarks or trademarks of Microsoft Corporation in the United States and/or other countries. For more information, visit http://www.biznetsoftware.com or call 888-803-5227.
INC. 5000 Methodology
The 2013 Inc. 500|5000 is ranked according to percentage revenue growth when comparing 2009 to 2012. To qualify, companies must have been founded and generating revenue by March 31, 2009. They had to be U.S.-based, privately held, for profit, and independent - not subsidiaries or divisions of other companies - as of December 31, 2012. (Since then, a number of companies on the list have gone public or been acquired.) The minimum revenue required for 2009 is $100,000; the minimum for 2012 is $2 million. As always, Inc. reserves the right to decline applicants for subjective reasons. Companies on the Inc. 500 are featured in Inc.'s September issue. They represent the top tier of the Inc. 5000, which can be found at http://www.inc.com/500.
Media Contacts
Amber Paschall | 469.214.0208 | apaschall(at)biznetsoftware(dot)com
Hanna Hubbs | 469.240.5462 | hhubbs(at)biznetsoftware(dot)com