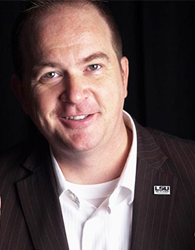 I am honored that the board has entrusted me to oversee the achievement of our aggressive growth plans.
Lafayette, LA (PRWEB) March 30, 2016
The Board of Directors of Bizzuka, Inc. recently promoted Jarett Rodriguez to President and Chief Innovation Officer of the company. Rodriguez has served as Bizzuka's Chief Innovation Officer since joining the company in 2013.
"Our goal is to increase revenue by 300% within the next five years, and in order to do that, we needed a strong person overseeing strategy execution. This is something that Jarett and I have been planning on and working toward for the past 2 years, so it is exciting to finally put Jarett in that role," said John Munsell, Bizzuka's co-founder and Chief Executive Officer.
In his new role, Rodriguez will be responsible for ensuring companywide alignment with Bizzuka's strategies and the execution of Bizzuka's objectives. Rodriguez will focus on delivering operational excellence across the entire customer journey continuum along with the development and refinement of new product and service offerings.
"I enthusiastically believe in and support the core values of Bizzuka. I've had the pleasure of working closely with John and the Bizzuka leadership team for several years, and I am honored that the Bizzuka board of directors has entrusted me to oversee the achievement of our aggressive growth plans," said Rodriguez.
Rodriguez has over 20 years of demonstrated business leadership and will bring broad experiences to this new role at Bizzuka. From 2007 through 2013, Rodriguez served his alma mater of LSU where he was instrumental in the establishment and development of the Stephenson Entrepreneurship Institute. During that time, he created and served as Director of the Entrepreneurship Fellows Program and the LSU 100. Rodriguez was also a member of the Executive Education Faculty at LSU were he taught and mentored business leaders and company founders on strategy, innovation, and entrepreneurship.
Rodriguez has founded or co-founded numerous companies spanning several industries. He has been called "a driving force for change" by the President of the United States as well as recognized nationally and regionally by numerous organizations. Rodriguez earned his MBA through the LSU Executive MBA program. He's also earned certifications from Cisco, Avaya, and Microsoft. Rodriguez resides with his family in Austin, TX and will continue scale Bizzuka's presence in Austin and throughout Texas.
Bizzuka develops custom Web-based software solutions for clients that want to increase revenues or decrease expenses by leveraging the Web and/or mobile technologies. The company has been named to the Inc 5000 three times as one of America's fastest growing privately held companies and has similarly been honored in the LSU 100 for five consecutive years.