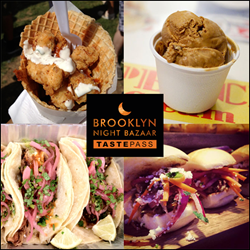 Brooklyn, NY (PRWEB) May 28, 2014
Brooklyn Night Bazaar, the combined night market, art fair, food festival, and music venue, kicks off their spring and summer season with a new food sampling experience - the TastePass. Each $25 pass grants patrons five tastes from an assortment of food and dessert vendors, a drink at the bars, and fast track entrance into the warehouse. Go on a food adventure with a fried chicken waffle cone from Brooklyn Star, salted crack caramel ice cream from Ample Hills Creamery, Bolivian sliders from Coachala, or wood fired pizza from Park Luncheonette. Yummy.
The Bazaar has been serving beer and wine until this point but just received a full liquor license and now serves a rotating selection of cocktails by mixologist Tim Cooper.
The tented beer garden is also being revamped for open air, joining other features like ping pong, black-light mini golf, and a 25-game arcade area.
The Bazaar continues their programming with media, music blogs, and record labels taking the reigns of music curation each night. See a summary of upcoming shows and curators below.
As always, the Bazaar remains free to enter.
Instagram | Twitter | Facebook
Spring and Summer are going to be awesome.
Night Bazaar Programming
May 23 Scenic/Rocks Off - Sheer Terror, Agitator, Cop Problem, DJ Zach Lipez
May 24 Scenic/High Times - High Times Cannibas Cup All Stars, Zahira, Ellis Ashbrook
May 30 Roc- a-Elle Records - Heartsrevolution, Ninjasonik, Demetra , Alyson Greenfield
May 31 BuzzChips/Whiskey and Pancakes - Yellow Ostrich, Fort Lean
June 6 Gorilla vs Bear/Forest Family Records present Ejecta, Dent May, Brave Young, DJ Graves
June 7 Gorilla vs Bear/Forest Family Records present Diana, Las Rosas, DJ Empress Of
June 13 Northside Festival
June 14 Northside Festival
June 20 Sub Scene Style/Audio Femme
June 21 Sub Scene Style/Audio Femme presents The Coathangers
June 27 Death & Taxes
June 28 Death & Taxes
July 4 Heritage Radio/DeFalco presents Spirit Family Reunion, Odetta Hartman
July 5 Afropop/DeFalco presents Zongo Junction, Chicano Batman, Karikatura
July 11 Mailchimp
July 12 Mailchimp
July 18 Noisey/VICE presents Ceremony, Iron Lung
July 19 Noisey/VICE
July 25 Noisey/VICE
July 26 Noisey/VICE
Aug 1 Deli Magazine 10th Anniversary
Aug 2 Deli Magazine 10th Anniversary
Aug 8 TheMostDefinitely/DeFalco
Aug 9 TheMostDefinitely/DeFalco
Non-Bazaar Programming
May 1 Red Bull Music Academy Bounce Ballroom
May 18 Renegade Craft Fair
May 22 RAW Artists
May 25 Down and Derby Roller Disco
June 12 Northside Festival
June 15 Watain at Brooklyn Bazaar (Northside Festival)
June 15 F*ck Buttons w/Odonis Odonis at Warsaw (Northside Festival)