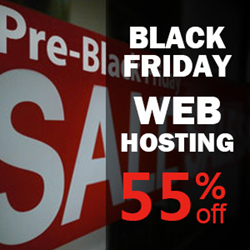 This is the last chance this year to get such big discounts from many web hosts.
San Francisco, CA (PRWEB) November 29, 2014
DrupalHosts, a site for Drupal hosting reviews, today released an announcement that many web hosts are continuing their Black Friday promotions on this weekend to attain good sales. Webmasters who fail to catch the previous chance can still purchase their desiring products at low costs.
The announcement states positively that the largest discount available for shared hosting is 55%, offered by HostGator, and that for VPS hosting is 50%, released by InMotion Hosting and BlueHost. As the rule goes, all discounts should be activated with the use of certain promotional links or coupon codes.
1) HostGator – 55% Off
HostGator leads the post-holiday promotion as it provides a 55% discount for all shared hosting products. For new customers visiting the official website through this special promotional link, the company lowers the price of the Hatchling plan from $4.95/mo to $2.23/mo. For extras, HostGator supplies a site builder, advertising credits, and data backups.
"It is not easy to get such a big discount from a large company like HostGator. Paying less than $2.5/mo, people get a package that is the same good as one costing almost $10/mo. That is a really good deal," commented an editor at DrupalHosts.
2) A2Hosting – 50% Off
All of A2Hosting shared hosting plans are cut 50% down on hosting fees. With this unique promotional link, the price of Prime plan starts from $3.49/mo only, covering CloudFlare CDN and website backup. In addition to shared hosting, the link can also activate a 50% discount for the company's VPS hosting to reduce the rate down to less than $8/mo.
3) InMotion Hosting – 50% Off
InMotion offers a 50% discount for both shared and VPS hosting services. People using this promotional link can obtain a shared hosting plan by spending $3.49/mo and a VPS at $14.99/mo. Users of both kinds of solutions have access to SSDs which improve website reliability and performance effectively. Daily backups are also available.
4) BlueHost – 60% Off
BlueHost has brought several discounts into effect for different products. For instance, the shared Starter plan comes with a 42% discount for $3.49/mo, and the Plus plan is 60% off for $3.95/mo. In terms of VPS hosting, a 50% discount is valid for all plans, with which the effective price starts from $14.99/mo.
5) Arvixe – 30% Off
Arvixe 30% discount applies to shared web hosting products. With the existing sale, the unlimited Personal Class plan costs $2.8/mo rather than the original $4/mo for visitors taking advantage of the designated coupon code. People who are not completely satisfied can get a full refund if they cancel their accounts in the first 60 days.
For more details about the web hosting sales, visit https://drupalhosts.org/web-hosting-deals-friday-november-28th-2014/.
About DrupalHosts
It is a resource site for Drupal hosting reviews, coupons, comparisons and tutorials, helping beginners know about Drupal, start and grow their websites, and optimize online presence.