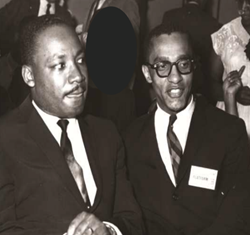 Martin Luther King, Jr. and a young Tony Brown at the historic March in 1963.
New York, NY (PRWEB) February 04, 2014
Tony Brown's Journal, the award winning, #1 rated public affairs series, has been resurrected for a new generation to learn and earn from the story of civil rights and Black history in America. With the launch of http://www.TonyBrownsJournal.com, some of the missing pages of history in America will be unveiled with exclusive, rare interviews with historical figures including The Tuskegee Airmen, Lena Horne, Denzel Washington, Arthur Ashe, Bill Cosby, Richard Pryor, Supreme Court Justice Clarence Thomas and former Secretary of State Colin Powell.
Tony Brown's Journal, "the most complete and thoughtful record of African-American opinion" and described by the NY Daily News as "one of the top 10 TV series of all time that presents positive Black images," is finally available on the Internet and the preservation of the legacy of the Tony Brown Journal –TV series as "the #1-rated talk/educational TV series" has been accomplished.
Tony Brown's Journal ran for nearly 40 years on television, beginning at a time when many Blacks in the United States had no other access to being on TV. The show's host, Tony Brown, has been described by Black Enterprise as "Television's Civil Right's Crusader." In 1963, he helped coordinate the largest civil rights march in history in Detroit along with the late Rev. Dr. Martin Luther King. Jr, months before the historic March on Washington. Brown is also the acclaimed author of the bestselling books "Black Lies, White Lies: The Truth according to Tony Brown," "Empower the People" and "What Mama Taught Me."
"Throughout my career, I tried to find the stories that had not been told and were quintessential to understanding not only the history of Blacks in America, but of America itself," Brown said.
Now, viewers across the world can have access to a lifetime of historical videos and interviews on http://www.TonyBrownsJournal.com. The site will feature blogs and personal memos from Brown, and allow members to create their own profiles so they can share and discuss this historic material with others.
The site also has a "Learn and Earn" component that allows individuals to become affiliates of the website to earn commissions on each person they refer to TonyBrownsJournal.com. All subscribers to TonyBrownsJournal.com are eligible to become affiliates and make income by promoting Black History.