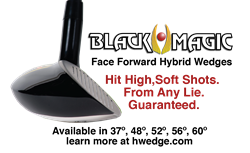 Black Magic Golf will demonstrate the new 'HWedge' hybrid wedge at San Diego golf expo March 14 - 15.
Westminster, CO (PRWEB) March 13, 2014
Black Magic Golf will be on hand at the upcoming San Diego Golf Fest at Oak North Golf Course in Rancho Bernardo, California. The company will be allowing golfers of all levels to hit their collection of Black Magic Hybrid Wedges. The hybrid golf clubs are available in several lofts starting with the 37º hybrid approach iron perfect for high, soft shots from 120 – 150 yards for most men and 90 – 130 yards for women. Two hybrid pitching wedge lofts at 48 and 52º help people with long bunker shots, and green side shots from rough or deep grass, not to mention perfect pitch shots with spin. The Black Magic Wedge is best known in 56º and 60º lofts to help golfers hit consistent, easy shots out of sand traps and deep grass around the greens.
The company encourages anyone wanting to see why hybrid wedges are so well designed to help them score better to visit Golf Fest in San Diego and the upcoming Las Vegas Golf Fest. "We will have the ability to hit all the shots you need to score better and can create different shots using our wedges to show golfers how well they perform. Our hybrid face forward wedges are really game changers for most people who try them in a demo day setting," mentions Brad Cochran, General Manager of Black Magic Golf.
Golf Fest San Diego is one of the larger regional golf expos in the country, offering people golf club discounts and deals on golf rounds, clothing and new technology for their game like Black Magic Hybrid Wedges. Golfers will get free rounds of golf for attending and have a chance at big prizes and sample merchandise from golf's biggest companies. Black Magic will be offering some special deals on hybrid wedge sets and bonus items for those who purchase.
"We make it easy for golfers to try out the Black Magic Hybrid Wedge at Golf Fest or people can take them home and if they choose we will allow a full refund. We say Love It or Return It, no questions asked. Plus we are giving everyone a chance to win an awesome Alphard Golf Bag who purchases a Black Magic Wedge at Golf Fest in March and April or online at blackmagicgolf.com," Cochran added.
Black Magic Golf stresses that players ought to take the time to find the best fit for their needs. The company will build the wedges to your specifications and they offer oversize grip options as well. Black Magic has a partnership with Jumbo Max golf grips and will offer the Midsize and Larger grips as an option with the hybrid wedge purchase. The company prides itself on the high level of quality of its products and the benefits those clubs give to people of all skill levels.
About:
Black Magic Golf invented the hybrid golf wedge known as the HWedge with their patented face forward design with USGA legal wedge grooves and a large sweet spot to assists with off center shots. Black Magic Hybrid Wedges help golf enthusiasts find new precision and high, soft shots as they make their way onto the green. Black Magic Wedges come in 37º, 48º, 52º, 56º and 60º Right Hand Lofts and 56º Left Hand Loft.
The HWedge is available online through blackmagicwedge.com
Contact:
Brad Cochran, General Manager, brad(at)blackmagicgolf(dot)com
Black Magic Golf, 10850 Dover Street, Suite 500, Westminster, CO 80020 or call Toll Free 877-799-6099.
To See YouTube Video showing how well Black Magic Hybrid Wedges work in sand please visit this link - http://youtu.be/PIGlQzkJbQI