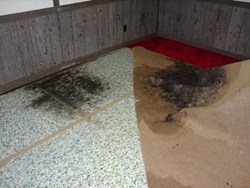 ...just as needed, Molderizer and Safe Shield effectively work without emitting harmful chemical ingredients.
Springfield, OH (PRWEB) August 09, 2013
A bowling coach in Norwalk, Ohio was diagnosed with an illness caused by black mold. That's according to a report from norwalkreflector.com posted on August 02, 2013. Seeing the need to create an awareness about it, My Cleaning Products shared the details. It also offered complimentary mold removal sprays to help the public fight mold health risks.
The man diagnosed with the black-mold-related illness was identified in the report as John Wade, 49 years old, MCP shared. His diagnosis, it added, took four years after he was exposed to black mold.
My Cleaning Products relayed based on the report that Wade's exposure to mold happened after he removed by himself the flooded floorboard in his basement. And though his wife and two kids were also determined to develop a mold illness after it, theirs was not as serious as his, it added.
Due to the life-threatening condition that black mold caused, the report said that Wade needs an extensive mold treatment, MCP related. And to help him with it, it shared that his community organized a fund-raising event for scheduled on Saturday.
Here's a part of the post Black Mold Causes Coach Serious Illness by My Cleaning Products.
"It has been said time and again that mold could cause various health problems. More so if that specie of mold is the Stachybotrys chartarum or the commonly known black mold.
The toxins of black mold could said cause serious risks to health. A recent report determined that a number of those threats are neurological damage, trigger uncontrolled internal hemorrhaging, reduction of white blood cell and suppression of the immune system.
John Wade, a bowling coach in Norwalk, Ohio, said to have experienced all of those things except for the hemorrhaging. Initially, doctors were going to diagnose him with lupus, multiple sclerosis or Lou Gehrig's Disease. But as it was found out, he got a life-threatening illness caused by black mold."
All types of mold could somehow cause problems to health, My Cleaning Products said. So, whether it's black mold or not, it stated that it must be cleared.
However, professional mold treatment is costly, it added. Instead of it, it suggested that one could just do the DIY mold removal to avoid the big expense. It reminded everyone though that personal mold treatment is only good for mold infestation not more than 10 square feet.
Additionally, MCP said that when doing the DIY mold treatment, the product or products to use must be both effective and safe to prevent the chemical risks. And among the many solutions available, it believed that Molderizer and Safe Shield are the best mold removal sprays to purchase.
MCP explained that just as needed, Molderizer and Safe Shield effectively work without emitting harmful chemical ingredients. Specifically, it said that Molderizer could kill mold spores fast and easy while Safe Shield could block them out and prevent future infestation without any help from harsh chemicals.
It also encouraged everyone to try the two new mold removal sprays to prove their benefits. And as it detailed those Molderizer and Safe Shield Complimentary Samples are available at MyCleaningProducts.com.