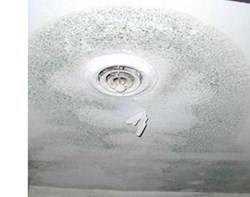 ...the solutions [Molderizer and Safe Shield] are both effective. And because they are also organic-based...they are safe for health and the environment.
Tampa, FL (PRWEB) October 14, 2013
The discovery of black mold in an Alachua County fire station led to its closure, said a report from wcjb.com. And stating that the same problem could also occur in residences, My Cleaning Products warned the public to look out for signs of mold presence. Moreover, it recommended two organic mold removal sprays to help mold victims.
According to the report, posted on October 10, 2013, it was particularly the county's Fire Station 19 that was shut down, shared My Cleaning Products. And as it detailed, the trucks stationed in it were temporarily transferred to Southwest 88th street and Ft. Clarke Boulevard.
The black mold, which was expected to cost $15,000 to remove, as said in the report, was initially discovered in July in the men's bathroom, MCP related. But after further inspection, it stated that it was also found in the ceiling insulation in September.
In a different post from the same news site published on the same day, it was said that Fire Station 19 no longer had mold, related MCP. And as relayed, it was set to re-open last Friday.
Below is an excerpt from the post Black Mold Causes Fire Station Closure by My Cleaning Products.
"Black mold closed down another government structure. And apart from worry, it also caused some people a bit of confusion.
The building the fungus recently shut down was particularly Alachua County's Fire Station 19. In a report from wcjb.com, it was said that the closure started on Monday and was scheduled to reopen today."
My Cleaning Products said that black mold is toxic and could cause various health risks. Hence, the closure of the reported fire station was a necessary step, it commented.
Nonetheless, it stated that houses are the ones most vulnerable to mold presence than any other place. And because of that, it advised the public to always look out for any sign of mold presence. Additionally, it suggested that everyone must have mold removal sprays prepared.
MCP said that the products will allow an individual to implement a prompt mold treatment. However, it only recommended Molderizer and Safe Shield for the process.
As it explained, the solutions are both effective. And because they are also organic-based, it assured that they are safe for health and the environment. With Molderizer killing mold and Safe Shield blocking more of their spores, it added that two offers a complete remediation process as well.
To prove it themselves how well the recommended products work, MCP encouraged the public to try them. It said that Complimentary Samples of Molderizer and Safe Shield are available for everyone who wants them at MyCleaningProducts.com.