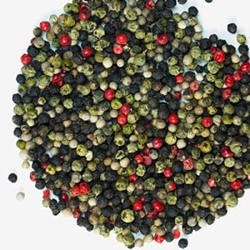 The "Black Pepper Health Benefits" report penned by Sharon Meserve provides people with tips on how to use black peppers moderately.
Seattle, WA (PRWEB) March 26, 2014
"Black Pepper Health Benefits", a new report created by Sharon Meserve on the site Vkool.com shows health and nutrition benefits of black pepper, and detailed instructions on how to use it properly. In the first part of this report, people will discover 10 reasons why they should add black pepper into their daily diet such as:
1. Peppers have been used since ancient times for its carminative, anti-inflammatory, and anti-flatulent properties.
2. Peppercorn contains an impressive list of plant derived chemical compounds, which help prevent diseases and promote health.
3. Peppercorn is packed with piperine (an amine alkaloid that gives strong spicy pungent character to the pepper).
4. Black pepper contains numerous monoterpene hydrocarbons involving terpenene, limonene, sabinene, and pinene that give aromatic property to the pepper.
5. It may increase the digestion power and the gut motility, and increase gastro-intestinal enzyme secretions.
6. Piperine in black pepper helps increase absorption of B-complex vitamins, beta-carotene, selenium, and other nutrients from the food.
7. Black pepper contains a good amount of minerals including calcium, zinc, and magnesium.
8. Potassium in peppercorn is an important component of cell and body fluids, which helps control blood pressure and heart rate.
9. Black peppercorn is high in manganese that is used by the body as a co-factor for the superoxide dismutase and antioxidant enzyme.
10. Black pepper is a rich source of iron that is essential for cellular respiration and blood cell production.
In the second part of this article, Sharon Meserve reveals to readers some amazing black pepper health benefits such as preventing the formation of intestinal gas, treating diseases caused due to bacteria, and relieving symptoms like constipation, diarrhoea and colic. The writer also points out that peppercorn is a good source of many vital B-complex groups of vitamins like riboflavin, niacin, pyridoxine, and thiamin. It also is an excellent source of many anti-oxidant vitamins including vitamin-A and vitamin-C. In addition, black pepper contains polyphenolic flavonoid anti-oxidants such as cryptoxanthin, carotenes, lycopene and zea-xanthin. In the final part of the "Black Pepper Health Benefits" report, people will discover how black pepper can help promote sweating, treating cough and cold, and stopping respiratory disorders.
Bin Nguyen from the site Vkool.com says, "Black Pepper Health Benefits is a good report that helps readers understand more about black peppercorn and its benefits on health. In this report, people also get to know tips for preparing and cooking with black pepper, and tips to select and store it."
If people want to get more detailed information from the "Black Pepper Health Benefits" article, they should visit the website: http://vkool.com/black-pepper-health-benefits/.
_________________
About Sharon Meserve: Sharon Meserve is an editor of the website Vkool.com. In this website, Sharon Meserve provides people with a collection of articles on black pepper benefits on health. People could send their feedbacks to Sharon Meserve on any digital product via email.