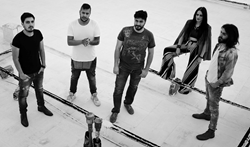 I've got a secret that I want you to hear - BLACK ANIS
(PRWEB UK) 22 February 2017
'Lay Me Down' is the new single released by the blues-rock band BLACK ANIS [/ˈblæk ˈɑːnɪs/] which predisposes any individual to relate it with a sensual and intimate context. The song matches a bluesy and soulful color with an explosive rock element that alternatively progress and trigger a fusion of emotions - sensuality, passion, and aggression.
BLACK ANIS is a five-piece band formed in Cyprus, in January 2016 by Orestis Savva and Kyriakos Xristodoulides on electric guitars, Xanthos Pattichis on bass guitar, Frixos Protopapas on drums, and Adriana Di Antonio on vocals. At the core of their music, the band members set out a clear mantra by focusing their energy on blending blues with southern rock, and incorporating elements from 90s trip-hop. The evident use of high-powered effects on stage produces a diverse atmosphere contrary to the popular sounding. Their playlist includes original compositions as well as covered songs adjusted to their style.
The name of the band is inspired by a breed of birds called 'ani', which describes the uniqueness and the freedom of the species itself, as well as by the Arabic etymology of the word-name 'Anis' which is defined as companion and close friend.
After the digital release of their first single titled 'Don't Leave Me' in May 2016, the band expanded its activities by participating in the popular Fengaros Festival in Cyprus, and performed alongside other local and foreign bands.
Find more about Black Anis on: