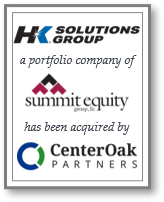 CHARLOTTE, N.C. (PRWEB) August 04, 2021
BlackArch Partners, LLC ("BlackArch") is pleased to announce that HK Solutions Group ("HK Solutions" or the "Company"), a portfolio company of Summit Equity Group, LLC, has been acquired by CenterOak Partners, LLC ("CenterOak").
HK Solutions, headquartered in Des Moines, IA, is a premier provider of infrastructure inspection, cleaning and maintenance services, as well as wastewater treatment and environmental services. The Company serves municipal and industrial customers located predominantly in the Midwest, offering a diverse and distinctive portfolio of capabilities designed to support the ongoing maintenance needs of public and private infrastructure across a wide range of end markets. The Company's sales and customer service efforts are supported by a team of business development directors with nationally recognized subject matter expertise. Over the past several years, HK Solutions has successfully accelerated its organic growth profile while also completing multiple strategic acquisitions to further strengthen the Company's footprint, capabilities and competitive positioning.
Wade Anderson, CEO, HK Solutions, stated, "I have nothing but the upmost respect and appreciation for the BlackArch team. They represented HK well in their interactions with all involved parties while doing a great job of supporting and engaging side-by-side with our team to meet necessary timelines to keep everything on track. HK's bright future with CenterOak Partners is only possible because of BlackArch's professionalism, hard work and overall passion for our industry leading us through this process."
Dennis Bailey, Managing Partner, Summit Equity Group, added, "The entire BlackArch team did an excellent job at every stage of the sale process. Their responsiveness and round the clock attention to detail drove a smooth and timely outcome. With deep understanding of our industry, BlackArch also identified an ideal partner in CenterOak Partners who will be instrumental in the continued growth and success of HK Solutions Group."
Transaction Highlights

CenterOak Partners has acquired HK Solutions Group
The Company's management team will continue to lead the business and remain an integral part of the shareholder group during HK Solutions' next phase of growth
BlackArch leveraged its industry experience and process management expertise to drive an expedited process and achieve a strong outcome for management and the shareholders
BlackArch was retained by HK Solutions to serve as the Company's exclusive financial advisor. The transaction furthers BlackArch's position as an advisor-of-choice for leading industrial, infrastructure and environmental services companies and is representative of the firm's focus on providing unique, tailored M&A advisory services to market-leading, high-growth businesses.
About HK Solutions
HK Solutions, headquartered in Des Moines, Iowa, provides water and wastewater infrastructure inspection, cleaning and repair services, as well as industrial services and wastewater treatment to customers predominantly in Midwestern states of the U.S. HK Solutions' diverse set of service offerings are designed to support the ongoing maintenance needs of existing public and private infrastructure, including sewer lines, manholes, stormwater systems, large diameter pipe and industrial facilities. With an extensive fleet of vacuum trucks, pipe inspection units and hydroblasting equipment, HK Solutions differentiates itself based on its breadth of services and highly skilled workforce serving the growing needs of municipal and industrial markets in the Midwest. The Company's 150+ employees support its mission to provide unmatched industrial and municipal cleaning and rehabilitation services. For more information, please visit http://www.hksolutionsgroup.com.
About Summit Equity Group
Summit Equity Group is a private investment group that was founded in 2004 for the purpose of identifying and acquiring small to medium sized private companies and providing them the resources necessary to realize their full potential. Summit Equity Group's focus is on the long-term growth, success and value of its holdings. The members of Summit, as well as its investment partners, are dedicated to this philosophy and, as such, Summit does not make decisions based on external pressures or arbitrary time constraints. To learn more, visit http://www.summitequity.com.
About CenterOak Partners
CenterOak Partners, LLC is a private equity firm with a focus on making control-oriented investments in middle market companies organized or operating in the United States. The Firm specializes in three key industry sectors: Industrial Growth, Consumer, and Business Services. Based in Dallas, Texas, the CenterOak team has a strong history of creating significant value through operational improvements. CenterOak and its Partners have managed over $2.4 billion of equity capital commitments and have completed more than 100 transactions, representing over $6.6 billion in value. For additional information, please visit http://www.centeroakpartners.com.
About BlackArch Partners
BlackArch Partners is a leading middle-market investment bank offering a full spectrum of advisory services to financial sponsors, private companies and diversified corporations. BlackArch addresses the needs of companies with specialized services that include M&A advisory, strategic advisory and private capital solutions. Headquartered in Charlotte, NC, BlackArch features a total of 12 industry-focused practices that cover all sectors of interest to middle-market investors. BlackArch professionals have closed more than 350 transactions in 16 countries on 4 continents. Please visit http://www.blackarchpartners.com for more details.
Securities offered through BlackArch Securities LLC. Member FINRA and SIPC. Testimonials may not be representative of the experience of all clients. Testimonials are not a guarantee of future performance or success.