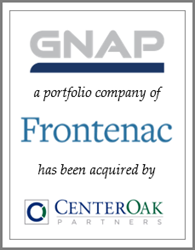 CHARLOTTE, N.C. (PRWEB) November 15, 2018
BlackArch Partners ("BlackArch") is pleased to announce the sale of GNAP, LLC ("GNAP" or the "Company"), a former portfolio company of Frontenac, to CenterOak Partners. GNAP, headquartered in Byron Center, Michigan, is a leading national distributor of industrial abrasive products, equipment and ancillary services.
Since 2005, when GNAP was formed through the merger of Grand Northern Products and Abrasive Products, the Company has achieved strong organic and acquisitive growth, making the Company the market leading specialty distributor of consumable abrasive products for surface enhancement and specialty ceramics applications. GNAP represents more than 550 global suppliers and serves more than 5,000 customers.
BlackArch was retained by Frontenac and management to serve as the Company's exclusive financial advisor.
Paul Carbery, Managing Partner at Frontenac, commented: "BlackArch exceeded our lofty expectations. Their consistent commitment of senior-level attention, deep understanding and effective articulation of GNAP's unique business model, close working relationship with the management team and flawless process execution resulted in a successful outcome for all stakeholders."
Mike Currie, Chief Executive Officer at GNAP, added: "The BlackArch team provided GNAP with tireless, around-the-clock guidance and support in our pursuit of a new partner, ensuring that we were well prepared as a management team to navigate each phase of the process and convey our vision for the future. Their deep experience in specialty distribution and the industrial abrasives sector proved invaluable in maximizing the outcome for the shareholders and aligning GNAP with the right partner to drive continued growth. We look forward to working with BlackArch again."
About CenterOak Partners
CenterOak Partners is a private equity firm with a focus on making control-oriented investments in middle market companies organized or operating in the United States. The firm specializes in three key industry sectors: industrial growth, consumer, and business services. Based in Dallas, Texas, the investment and portfolio management team has a strong historical track record creating significant value through operational improvement. CenterOak's senior leaders and their predecessor funds have managed over $1.8 billion of equity capital commitments and have completed over 100 acquisitions, representing over $3.3 billion in transaction value. For more information, visit http://www.centeroakpartners.com.
About Frontenac
Frontenac is a leading private equity firm, based in Chicago. The firm focuses on investing in lower middle market buyout transactions in the consumer, industrial, and services industries. Frontenac works in partnership with proven operating leaders, through the firm's executive-centric approach called CEO1ST, to identify, acquire, and build market leading companies through transformational acquisitions and operational excellence. The firm has built a leading franchise working with over 275 owners of mid-sized businesses, almost always families or founders, as they address complex transition issues of liquidity, management enhancement, and growth planning. For more information, visit http://www.frontenac.com.
About BlackArch Partners
BlackArch Partners is a leading middle-market investment bank offering a full spectrum of advisory services to financial sponsors, private companies and diversified corporations. BlackArch addresses the needs of owner-operators, founders and shareholders of private companies with specialized services that include M&A advisory, strategic advisory and private capital solutions. Headquartered in Charlotte, North Carolina, BlackArch features a total of 12 industry-focused practices that cover all sectors of interest to middle-market investors; BlackArch professionals have closed more than 350 transactions in 16 countries on 4 continents. For more information, visit http://www.blackarchpartners.com.
Securities offered through BlackArch Securities LLC. Member FINRA and SIPC. Testimonials may not be representative of the experience of all clients. Testimonials are not a guarantee of future performance or success.