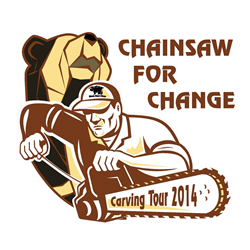 We believe in being much more than a restaurant. We want to be a vested community partner. - Bob Manley, co-founder of Black Bear Diner
Redding, CA (PRWEB) May 08, 2014
Black Bear Diner, a one-of-a-kind family dining concept featuring excellent food and value served in a bear-themed atmosphere, announced today its 2nd Annual Chainsaw for Change Bear Carving Tour to help benefit community nonprofits.
The Bear Carving Tour, scheduled from May 19 – May 26, will feature a chainsaw carving demonstration by master woodcarver, Ray Schulz. Schulz, the artist behind more than 220 custom carved bears at nearly all 62 Black Bear Diner establishments, will visit seven different Black Bear Diner locations in eight days and custom carve a total of fourteen, five-foot bears. Each bear weighs nearly 400 pounds. One custom carved bear will be given away at each location.
"This is our small way of giving back to the communities we serve," said Bob Manley, co-founder of Black Bear Diner. "We believe in being much more than a restaurant. We want to be a vested community partner. This tour is an extension of that principle."
In the inaugural Bear Carving Tour, Black Bear Diner raised nearly $8,000 for six community nonprofits. All benefiting nonprofits are selected by the local Black Bear Diner franchisee. The 2nd Annual Bear Carving Tour will make stops at the Black Bear Diners in the following cities and support the following seven nonprofits. Each bear carving event is scheduled from 9 a.m. to 3 p.m.
Tour Dates & Locations
May 19 | Madras, OR | Kids Club of Jefferson County
May 20 | Klamath Falls, OR | Veteran's Enrichment Center
May 21 | Vallejo, CA | Autism Speaks
May 22 | Modesto, CA | Society for disABILITIES
May 23 | Visalia, CA | Central California Blood Center
May 24 | Las Vegas, NV | Spirit Therapies
May 26 | St. George, UT | PAWS
Donations to help support the community nonprofits are now being accepted at participating Black Bear Diners. The suggested donation for a single ticket is $5; a suggested donation for a set of five tickets is $20. No Black Bear Diner purchase is necessary. The chance to win the custom carved bear is open to anybody. Winners do not have to be present to win.
About Black Bear Diner
Black Bear Diner, founded in 1995, is a fast growing, community-oriented, family dining concept that offers a one-of-a-kind experience in a fun, bear-themed atmosphere. Black Bear Diner was born from a desire to bring home-style comfort food classics and personal service back to the dining experience. The brand has steadily grown to 62 locations in eight western states, and is strategically growing its national footprint, with a goal of 100 units by 2018.
Recognized as a Top 10 Franchise Value by Full Service Restaurant Magazine and ranked 275th in Franchise Times' Next 300 franchises to watch in 2013, Black Bear Dinner is actively seeking experienced franchise operators whose passion, energy and entrepreneurial spirit reflect that of the founders, and share a relentless commitment to serving their guests and communities. For more information on Black Bear Diner, please visit http://www.blackbeardiner.com.