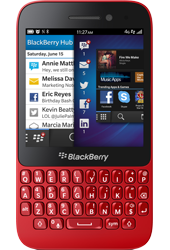 The deals offered on the new Blackberry Q5 are so amazing that you'll think of buying it for yourself and for your loved ones as well. This is a chance a mobile lover can't afford to miss.
Gainsborough, Lincolnshire (PRWEB UK) 31 July 2013
The current market scenario in terms of smart phones is that the demand is high for a certain type of smart phone and a few companies are cashing-in on this opportunity. It is clear that innovation in technology and popularity of the product is what will help a brand sustain in times of such cut-throat competition. Apart from these factors, availability and affordability of the product is also quintessential in times like these. While mobile companies strive to come up with unique features and technologically advanced mobile experience for the customer, there are websites like Beforeyoubuy.co.uk who support the mobile companies and help them promote popular phones by offering exciting deals on latest smart phones. The latest entrant in the smart phone market is the Blackberry Q5 Red, one of the most awaited Blackberry phones of all time. Before You Buy Ltd website is all set and ready with some tempting deals on this new smart phone.
The reason the Blackberry Q5 Red is so popular right from the time of its launch is that it comes with a handy QWERTY keypad and a 3.1 inch touch screen interface. It is a must for mobile lovers who need the best of both, touch & type. Some other features that have made it a hot buy include the BBM Screen Share, Story Maker and Time Shift mode and the Blackberry 10 operating system. The Blackberry 10 OS is incredibly fast, better performing and offers an incomparable user experience.
Blackberry's recent introductions to the market have been well-accepted but at the same time, the war between Apple and Samsung surely has slight impact on the market. The innovation lead that Samsung has taken is being chased by mobile biggies but most of them have proven a step behind. However, Blackberry, with its advanced OS and the new key & touch type smart phone has great hopes and given the fan following and consumer loyalty to the brand that Blackberry enjoys, it seems like the tables may turn now.
Before You Buy Ltd website has incomparable prices and attractive freebies to be grabbed along with the new Blackberry Q5 Red. The website boasts of lowest possible prices on this new phone and assures you a never-before deal. Mr. Joseph James, the Director of the website commented, "Blackberry is back with a bang with its new Q5 Red touch & type phone and Before You Buy Ltd, as usual, is ready with the best-in-the-industry deals on this new style icon. The deals are on and live for the UK consumer to take advantage of."
With so much for the customers, right from mobile reviews to news to online mobile comparison and fabulous deals on the most popular and latest phones, http://www.Beforeyoubuy.co.uk is a website that has truly become the pulse of the mobile savvy generation of today. Before You Buy Ltd also extends an invitation to visit its official Facebook page at http://www.facebook.com/beforeyoubuyuk.