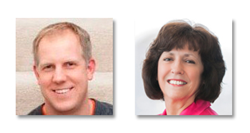 Cincinnati, Ohio (PRWEB) September 15, 2015
BlackbookHR, a Cincinnati-based technology company that measures employee engagement, captures team feedback and maps relationships between employees, announced several new employees who will help the company as it grows and brings new solutions to the human resources technology market.
D. Scott Felblinger, founder of the technology consulting firm Forty Amp Software, is now chief technology officer. Scott brings 14 years of experience developing entrepreneurial software and managing IT projects.
As an executive technology leader at local agency Bridge Worldwide, Scott worked with several Fortune 500 companies to deliver interactive solutions to meet a variety of marketing challenges. Scott also has extensive experience working with startup companies in Cincinnati such as Cladwell, StreamSpot and Dotloop. He has experience developing enterprise B2B systems at Fifth Third Bank. At BlackbookHR, he will lead and oversee product development, architecture and engineering activities and functions.
"Scott is a great addition to our team. He brings a unique mix of technical and business acumen that will accelerate our product development efforts and business growth," says BlackbookHR CEO Chris Powell.
Rosie Baker has joined the team as customer success lead. She comes to BlackbookHR from Scripps Networks Interactive and also worked at General Electric and Fifth Third Bank. For years, Rosie has been tackling major employee engagement projects, including providing project management leadership and business analyst support for the high-profile human capital management systems at Scripps Networks Interactive and leading a team of three project specialists to execute and deliver highly complex enterprise learning solutions for 22,000 employees at Fifth Third Bank.
In her new role at BlackbookHR, she will help customers put their people data to work, using data to collaborate, strengthen company culture and improve engagement. "I feel most engaged when I'm working with talented, intelligent people and helping customers realize true employee engagement," she says.
"Rosie brings enthusiasm and experience helping customers," says Powell. "We're excited to have her on our team as we introduce new products to help organizations improve engagement."
The company is also wrapping up its inaugural summer internship program. "We've introduced young employees to life at a fast-growing technology company — and we learned a lot from our interns, too," says Powell.
Ashish Sharma and Ayusman Vikramjeet, both University of Cincinnati graduate students, joined the team this summer as interns supporting data analytics and product development. Tulane University undergraduate student Ishan Ghildyal worked as a business analyst intern supporting customer success and marketing. He joined the BlackbookHR team full-time midway through the summer, choosing to delay his studies to gain more real-world experience about how a growing technology business works.
Learn more about BlackbookHR's suite of engagement solutions and dynamic team at http://www.blackbookhr.com.
ABOUT BLACKBOOKHR
BlackbookHR is a software company that measures employee engagement, captures team feedback and maps relationships between employees. Organizations use that data to improve retention, build a better culture and boost performance and productivity. Contact us to learn more about our solutions.