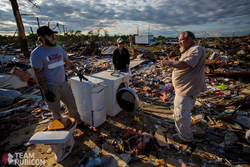 Los Angeles (PRWEB) May 02, 2014
Team Rubicon, a veteran-led disaster relief organization, has launched multiple disaster operations to support communities affected by this week's deadly tornado outbreak across multiple states.
Monday, Operation: Rising Eagle began in Faulkner County, Ark. There, volunteers are performing damage assessment, chainsaw operations, debris removal and expedient home repair. On Saturday, Team Rubicon will assume the lead for volunteer management at the request of local officials.
Operation: Red Hills was launched Wednesday in Louisville, Miss., and will also consist of debris removal and chainsaw operations. This weekend, volunteers will perform similar work in Baxter Springs, Kan., for Operation: Black Dog.
The organization unites the skills and experiences of military veterans with first responders to rapidly deploy emergency response teams. Beyond disaster relief, Team Rubicon helps veterans find a renewed sense of purpose—vital as many return to civilian life after more than a decade of war.
Team Rubicon was founded in the wake of the 2010 Haiti Earthquake by Jake Wood and William McNulty, both Marine veterans. It has grown from eight to 15,000 members with nearly 60 operations under its belt, including Haiti, Superstorm Sandy, and Typhoon Haiyan in the Philippines.
The nonprofit most recently conducted debris removal in Western Michigan communities affected by straight-line winds and flooding.
Team Rubicon's services are provided at no cost to homeowners—making a measurable difference in affected communities. For example, Team Rubicon saved homeowners in Oklahoma an estimated $3.7 million in recovery costs through debris removal and home repairs, following devastating tornadoes last year.
Team Rubicon is being helped in its response by several partners, including Southwest Airlines and Airlink with flights; Home Depot Foundation and ToolBank Disaster Services with tools and supplies.
Team Rubicon is accepting financial contributions for its storm response. To learn more about Team Rubicon's mission, or to become a supporter, visit http://www.teamrubiconusa.org.
Team Rubicon can also accept bitcoin donations at http://www.bitcoin.teamrubiconusa.org.
About Team Rubicon: Team Rubicon (TR) unites the skills and experience of military veterans with first responders to rapidly deploy emergency response teams. TR offers veterans a chance to continue their service by helping and empowering those afflicted by disasters, and also themselves. For more about Team Rubicon, visit http://www.teamrubiconusa.org.