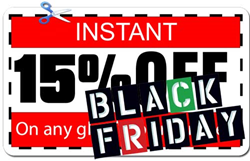 This is a special Friday code for glass repair services in West Palm Beach, Florida, only.
West Palm Beach, FL (PRWEB) November 24, 2014
Express Glass,( http://www.expressglassfl.com ), a local West Palm Beach glass repair company, is proud to announce a special promotional 15% discount for residential customers that will be honored as part of the company's Black Friday, 2014, promotions. The offer extends to residential customers seeking glass window or door repair for their West Palm Beach home.
"West Palm Beach residents love a good bargain on the Friday after Thanksgiving," expressed Yaniet Santos, general manager at Express Glass. "While people are out looking for those Holiday 'Door Busters' on the weekend after Thanksgiving, our focus will be on replacing broken glass windows and doors at the lowest price of the year."
To learn more about Express Glass in West Palm Beach, please visit http://www.expressglassfl.com/west-palm-beach-glass-window-repair/. There one can find general information on the company's top-rated glass repair services including sliding glass door repair, window and door repair, and both residential and commercial services.
Terms and Conditions of Special 2014 Friday Promo for West Palm Beach Residents
The company's Black Friday discount offer for West Palm Beach is subject to the following terms and conditions for the special 15% discount. It is valid only from November 28, 2014, to December 1, 2014. Interested customers must a) reside in West Palm Beach, and b) must mention the special promotional offer for 2014 to West Palm Beach residents. New residential customers only are eligible. West Palm Beach residents must mention "Friday in West Palm Beach" as the promotional code when calling in.
The company has stocked up on sliding glass doors, and will have glass replacement technicians available all day long on this coming Friday. Unlike other Friday promotional offers and sales where a customer has to wait in line for hours or be one of the first 100 people to get a special coupon; West Palm Beach residents only have to mention the special promotion code for the discount to an Express Glass representative.
About Express Glass Repair and Board Up
Express Glass and Board Up Service Inc. is a family owned and operated glass repair business with more than 20 years of experience. Their professional technicians and the large variety of inventory make Express Glass the top glass repair service. If customers are looking for Miami glass repair or Ft. Lauderdale glass repair as well as glass repair in Delray Beach or West Palm Beach glass repair, please reach out to the company for a free estimate. If customers need a 24/7 Sliding Glass Door repair service in Ft. Lauderdale or Boca Raton or Miramar, technicians are standing by. The company specializes in sliding glass door repair and window glass repair; technicians will handle any glass replacement situation efficiently. Home or business glass repair is the company's main priority.
Express Glass Repair and Board up
http://www.expressglassfl.com/