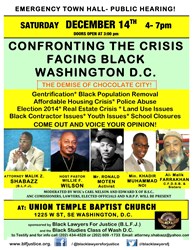 BLACK LAWYERS FOR JUSTICE AND ITS NATIONAL DIRECTOR ATTORNEY MALIK SHABAZZ ADDRESS ISSUES OTHERS ARE FEARFUL TO ADDRESS
(PRWEB) December 09, 2013
On Saturday, December 14, 2013 a historic emergency mass town hall meeting and public hearing will be held in the Nation's Capitol. The timely subject is "Confronting the Crisis Facing Black Washington, D.C.—The Demise Of Chocolate City". This will be a historic public gathering on the subject of gentrification in America's most rapidly changing city.
The location is Union Temple Baptist Church Located at 1225 W Street SE Washington D.C.
Dissatisfaction, disillusionment and even desperation is spreading rapidly across the Nation's Capitol. Washington, D.C. is changing; yet not nearly enough debate, dialogue or straight talk has occurred on whether the changes are positive or negative. Black Lawyers for Justice convenes the hearing to highlight and raise the alarm bells about the clear and dangerous adverse effects of D.C.'s urban renewal and gentrification scheme.
New construction is everywhere and cranes dot the landscape across Washington, D.C. Snazzy condominiums and new developments are literally popping up overnight. A rapid population shift is in full effect under urban renewal and long planned schemes have now finally come to full bloom. The Black population, once 75% as recently as 1990, has now plummeted to just 45%. Black population removal is a reality and is the ironic underside of the "new and improved Washington D.C.".
Black Lawyers for Justice has assembled a panel of national and well known local community leaders, who are also D.C. residents who will speak and chair the emergency hearing:
1. Attorney Malik Z. Shabazz National Director of Black Lawyers for Justice
2. Pastor Willie F. Wilson Union Temple Baptist Church Pastor
3. Mr. Ronald Moten Activist, former Peacaholics Leader
4. Min. Khadir Muhammad Nation of Islam leader in Washington, D.C.
5. Mr. Al Malik Farrakhan Community Activist Cease Fire D.S.B.
Testimony from expert witnesses will verify the following:
1. Affordable Housing has vanished and has been nearly wiped out by conspiracy;
2. Police Abuse and violations of Civil Rights have dramatically increased. The police force is increasingly White;
3. Election 2014: How Gentrification issues will affect the election;
4. A Real Estate Crisis exists and Blacks are losing houses to foreclosures, tax sales and a host of other misfortunes and schemes. Prices are sky high;
5. Development in the city is completely favoring the wealthy and multi-millionaire developers who are intentionally violating the best interests of the community by wiping out affordable housing;
6. Black Contractor Issues: Black Contractors are being wiped out and ethnically cleansed from Washington, D.C. African American contractors and providers have become a besieged minority in their own city;
7. Youth Issues: Youth Violence still plagues the Black Community, undermining efforts to fight gentrification;
8. School Closures: Schools being closed and privatization are direct results of gentrification;
9. The imperiled Black Population is being systematically removed and the Black political and cultural presence is in jeopardy as never before;
10. A host of other issues that Black Washingtonians are angry about.
To this date, the silence from the establishment of Black leaders in Washington D.C. has been disappointing. Stung by the downfall of three of their colleagues on the City Council, the African American City Councilpersons are appallingly mute on this subject. But the strength and success of this critical meeting will serve notice to city leaders that they will not get a free pass on this life or death issue. Residents want answers to these troubling and frightening circumstances. The Mayor can't avoid this compelling issue.
The host Church is Union Temple Baptist Church, which is in the middle of ground-zero for gentrification changes in downtown Anacostia. The fiery activist and groundbreaking, pioneering Pastor Willie F. Wilson knows very well what is happening in the city.
This meeting is expected to be well attended and is sponsored by Black Lawyers for Justice, which is under the leadership of National Director Attorney Malik Z. Shabazz. Mr. Shabazz is also a D.C. resident and he has been very active in many national legal and political cases where the interests of justice for African-Americans has been at stake. The hearing is co-sponsored by the Black Studies Class of Washington, D.C. and is supported by at least 20 grassroots organizations.
ON SITE SERVICES TO BE OFFERED: Legal rights booklets and consultations; help with foreclosures, bankruptcy, tax sales and other real estate and legal issues; credit repair and consultation; mentoring and anti-violence options for youth; other needed services and information will be provided