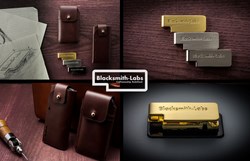 We want to provide style and elegance in wearing a belt clip holster, with material quality that is not compromised.
Markham, Ontario (PRWEB) November 08, 2013
The Blacksmith-Labs brand has made its first appearance on Kickstarter last week, with a pair of luxury leather holsters made for the Apple iPhone 5/5s. Named the Bruno and Barrett, they are constructed out of premium full grain cowhide leather, with styles that are different than most belt clip holsters you can find in the market today.
What makes any Blacksmith-Labs leather belt clip holster different is their Signature Series metal alloy belt clips. Most belt clip holster for smartphones are made out of plastic, with some made out of bent sheet metal and wrapped in leather or synthetic leather. Over prolonged use, the plastic belt clip would either break or crack due to stress and strain. And with bent metal belt clips, once over bent out of shape, they can never restore to be the same again. The Blacksmith-Labs Signature Series belt clips are constructed out of metal alloy, injected to have three dimensional features required in a swivel belt clip. The result is an exceptionally strong belt clip with fine features, and virtually indestructible.
The design philosophy of the Bruno and Barrett holsters is based on the concept of modern minimalist, focusing on the fundamental elements of the design without unnecessary elements. The use of a metal button stud as the flap retention mechanism adds a sense of luxury to the overall design.
Both of these holsters are currently campaigning on Kickstarter until the end of November. As early adopters, you can save up to 40% on the limited rewards.
About Blacksmith-Labs
The Blacksmith-Labs brand is owned by Exati Technologies Inc., with a mission to create the best smartphone leather holster in the world, with unsurpassed craftsmanship and unparalleled durability. You can reach Blacksmith-Labs at sales(at)blacksmith-labs(dot)com.