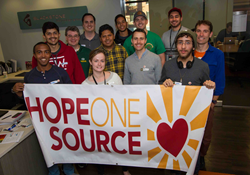 "We can't thank Blackstone Federal enough for their support and commitment as we work to expand HopeOneSource in DC," -Tim Underwood, Executive Director, Hope With Love
Arlington, Virginia (PRWEB) June 13, 2017
Blackstone Federal is proud to announce its new strategic partnership with Hope With Love, an Arlington, VA-based 501c3 non-profit that is working to prevent and end homelessness in Washington, DC through its HopeOneSource program. HopeOneSource is a web-based platform that uses geolocated text messaging to connect DC residents at–risk and experiencing homelessness to available nearby social and career services..
As a company that takes pride in giving back to the community, Blackstone Federal recently hosted multiple humanitarian codesprints wherein Blackstone team members helped drive the development of several new key features of the HopeOneSource technology. And beyond the codesprints, multiple Blackstonians have become leading individual contributors within the HopeOneSource volunteer development team.
"We're very excited to expand our support and partnership with Hope With Love. We've all been inspired by this important mission and the impact it has on our community," says Blackstone Federal's Executive Director Giles Kesteloot. "We see it as an incredible opportunity to apply our tech chops to help advance a unique technology that is helping save lives right here in our nation's capital."
"We can't thank Blackstone Federal enough for their support and commitment as we work to expand HopeOneSource in DC," says Hope With Love's Executive Director Tim Underwood. "Their multi-faceted support of our development efforts will help us achieve many key development objectives this year, which will ultimately help us connect more DC residents at-risk and experiencing homelessness to the services they need."
To-date, over 100 DC career and social service providers, businesses and other local organizations use the HopeOneSource tool to send messages about their available services to over 600 DC residents at-risk or experiencing homelessness who are signed up to receive messages about these services on their cell phones. For those DC residents at-risk or experiencing homelessness without a phone, HopeOneSource program volunteers are also distributing free cell phones with service plans and unlimited text messaging to eligible residents through the federal Lifeline phone assistance program.
The strategic partnership between Blackstone Federal and Hope With Love means consistent, dependable support for the HopeOneSource development team, with future codesprints already on the calendar later in 2017. The next codesprint is scheduled for August 5, 2017 at Blackstone Federal's office in Arlington, VA.
For more information on the HopeOneSource program, visit dc.hopeonesource.org
For more information about how Blackstone Federal can help transform your organization, or if you consider yourself a top engineer, please connect with us at level_up(at)blackstonefederal.com.