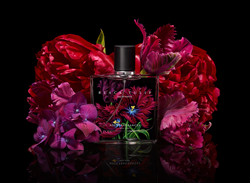 Black Tulip is the most seductive fragrance I've created yet.
New York, NY (PRWEB) February 07, 2017
NEST Fragrances, a leading designer and manufacturer of exceptional and extraordinary fine and home fragrances, today announced the debut of Black Tulip, an alluring and seductive new eau de parfum launching this week exclusively at Sephora. It is the tenth eau de parfum created for the NEST Fine Fragrances Collection.
"The idea to create Black Tulip came to me after I came across the most stunning photograph of a black parrot tulip," said Laura Slatkin, Founder of NEST Fragrances. "I was so intrigued by the movement and the sensuality of the flower, I immediately knew I wanted to use it as my inspiration to create a modern chypre fragrance."
A modern chypre fragrance features a dark, fruity accord combined with patchouli, oakmoss and sensual floral notes. Shortly after seeing the striking black parrot tulip photograph, Slatkin embarked on a personal trip cruising the Black Sea. Slatkin said, "My favorite part of the trip was when every evening we would go to the top deck of the boat just as the sun was setting to enjoy a glass of champagne along with delicious, dark, rich cherries and plums we picked up at the market in Turkey."
When Slatkin returned to New York after her trip, she began to collect photographs that expressed the kind of seductive mood she wanted for Black Tulip. One photograph in particular caught her eye. "I saw a photograph of this exotic, artful flower dress designed by the late Alexander McQueen," said Slatkin. "It happened to be on exhibit at The Metropolitan Museum of Art, and the dress was covered in all these beautiful flowers in deep shades of burgundy and violet – those rich tones that perfectly captured the sensuality I wanted for my fragrance."
As with each of her previous fine-fragrance creations, Slatkin then worked closely with widely respected Russian artist Alexander Solodukho to design the unique and original botanical artwork to illustrate Black Tulip. With the new artwork in-hand, Slatkin chose to work with master perfumer Jérôme Epinette to develop the fragrance, given his deep expertise in the chypre olfactory group.
"We started with the dark rich cherries and black amber plum accord and, for sensuality, we added night-blooming Indonesian jasmine and Japanese violet," said Slatkin. "For freshness, we added pink peppercorns and, to give the fragrance a rich body, we added oak moss and patchouli. The result is simply extraordinary. Black Tulip is the most seductive fragrance I've created yet."
Black Tulip is available for purchase in a 1.7 Fl. Oz. (50mL) eau de parfum spray for $72 and a 0.27 Fl. Oz. (8mL) eau de parfum rollerball for $25. Along with Black Tulip, the NEST Fine Fragrances Collection is available for purchase now on Sephora.com and in all Sephora stores across the United States, Canada, Mexico and Australia.
About NEST Fragrances
New York City-based NEST Fragrances is a leading designer, manufacturer and marketer of luxury fragrances for the bath, body and home. Founded in 2005 by fragrance authority Laura Slatkin, today NEST Fragrances produces more than 20 home fragrance collections consisting of luxury scented candles in several sizes, reed diffusers, liquid soap and hand lotion. In 2013, the company launched the NEST Fine Fragrances Collection, which today consists of eight fragrances available in eau de parfum sprays and roller balls and luxury body cream. NEST Fragrances products are sold primarily in North America through a growing wholesale customer network of luxury specialty department stores, beauty product stores, boutique stores and spas, and the company's online flagship store NESTFragrances.com.