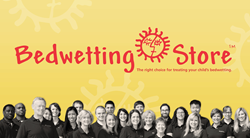 We look forward to continuing to improve our site and helping families down the path to permanent nighttime dryness.
Fulton, MD (PRWEB) March 18, 2014
Every year the Blades Ecommerce Awards honor the most interesting, well-designed ecommerce sites on the web in the categories of Most Compelling Story, Most Innovative Product, Best Feature, and Best Website. This year's award for the Most Compelling Story went to BedwettingStore.com.
The Bedwetting Store was started in 2000 by Renee Mercer, a pediatric nurse practitioner who wanted to help families deal with bedwetting. Her plan was simply to start a website for her local practice which served the Baltimore/Washington DC area. But the site soon began attracting families from all across the country. Renee started selling bedwetting alarms, the only proven treatment for bedwetting, on her site to help the families who couldn't come meet with her in person. She also wrote the book 7 Steps to Nighttime Dryness, which is now the bestselling book on bedwetting. These days the Bedwetting Store generates millions in revenue every year and is the largest seller of bedwetting products in the US.
The Bedwetting Store was competing with several other unique businesses for the Blades Ecommerce Award, including Camping Yurts, a husband and wife business that sells portable yurts; Hooray for the Underdog!, a stationary line that takes pictures of abandoned dogs and cats to use in greeting cards, notepads, and more to help raise awareness for rescued animals; Lock-n-Load Java, a veteran and military spouse owned and operated coffee company; and Tactical Defense, a site that started as a training site and now sells tactical gear.
"It was an honor to be chosen for this year's Blades Ecommerce Award," said Renee Mercer. "Thank you to everyone on the MivaCon committee. We look forward to continuing to improve our site and helping families down the path to permanent nighttime dryness."
About BedwettingStore.com
The Bedwetting Store is America's one-stop shop for bedwetting items and waterproof bedding. They have helped tens of thousands of children—and adults—since their start in 2000. They are now the largest distributor of enuresis related products in the United States. The Bedwetting Store is proud to serve the millions of families who seek information and practical solutions to help children stop wetting. They feature a wide assortment of quality products at discounted prices. You'll find their information at your child's pediatrician's office and on the Web, of course. Just ask your child's health care provider about the Bedwetting Store. If they specialize in treating childhood wetting, they'll likely recommend one of their products.