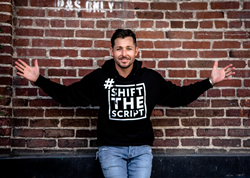 We cannot stay stuck in old mindsets and habits, and instead need to focus forward, embrace the new, and adapt accordingly. This new series will show people how to feel alive by design—one shift at a time. -- Blake Mallen
LOS ANGELES (PRWEB) June 21, 2021
Mission-driven entrepreneur, Blake Mallen announces that his ALIVE by Design podcast show will launch a new micro-series called 'The Shift List.' Mallen revealed the reasons for the series in his special ALIVE by Design one-year anniversary episode aired last month, explaining its purpose was to empower people who feel stalled or stuck in life over the last year of pandemic and want a simple strategy to consciously create the life they were 'meant to' live. Starting next month, listeners will receive weekly how-to advice, tips and inspiration to reframe limiting scripts to new beliefs that can propel them forward towards their personal purpose and potential.
The Shift List is the latest micro-series of the popular ALIVE by Design show, following a year of Mallen's fast-growing thematic episode series, #WalkWithMe and mind-opening guest interviews. Subscribers have been leaving many positive reviews on the enlightening mix of inspired ideas, perspectives, and transformation principles on the topics of business, entrepreneurship, leadership, marketing, lifestyle, health and wellness. The Shift List will introduce a new element into the show, serving up bite-sized wisdom and actionable know-how's when it comes to creating a more meaningful life.
"The Shift List micro-series is a direct response to all the great feedback from the show this past year, with so many people saying they really feel a 'need' to shift mindsets, attitudes and actions, but they don't know exactly 'how' to do that," said Mallen. "The Shift List will walk them step by step through simple strategies that will empower listeners to make small shifts that overtime will create profound (and long-term) impact."
Just as Mallen's ALIVE by Design podcast series was intentionally released during the coronavirus pandemic when anxiety, fear and self-doubt were at an all-time high, The Shift List micro-series will guide people as they navigate the next normal.
Said Mallen: "As the world begins to 'open back up', we will need to accept the fact that some things will never 'go back' to as they once were. We are all now living in a new reality, which is still shifting all around us, day by day as economies, workplaces, events and lifestyles evolve into a post-pandemic world. We cannot stay stuck in old mindsets and habits, and instead need to focus forward, embrace the new, and adapt accordingly. This new series will show people how to feel alive by design—one shift at a time."
To be the first to know when The Shift List publishes, be sure to Subscribe to the ALIVE by Design podcast show at alivebydesign.com/subscribe for Apple Podcast, or alivebydesign.com.
About Blake Mallen
Blake is a Mission-Driven Entrepreneur, Billion-Dollar Brand Builder, Community Marketing Expert, Global Speaker, and the host of the popular 'ALIVE by Design' Podcast, with over two decades of experience turning ideas into iconic healthy lifestyle brands that have transformed millions of lives. Blake's TED Talk on how to 'shift the script' (1M+ views) is inspiring a movement to move toward your 'meant to' and make the shift from being alive, to feeling fully ALIVE. Learn more at blakemallen.com and connect at @blakemallen.