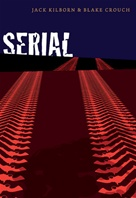 "It's loads of fun - murder taken to an art form!"-John Hutchinson of Norwood Press
Portland, OR (PRWEB) May 27, 2014
Thriller writer Blake Crouch makes the move to television with Wayward Pines a FOX production directed by M. Night Shyamalan and starring Matt Dillon. Wayward Pines is based on Crouch's novel PINES, a story where things are a lot different than they appear.
Gut-wrenching thrillers are what describes Blake Crouch's writing style. His collaboration with Jack Kilborn (aka J.A. Konrath), the first of many, started with the short story SERIAL. In conjunction with the authors, Norwood Press produced a special limited edition chapbook, signed and numbered by both authors. The Chapbook SERIAL by Blake Crouch and JA Konrath is now available for giveaway through Goodreads and VJ Books and Norwood Press ending May 31st.
"This twisted short story was the beginning of a bunch of collaborations between Blake and Joe Konrath," says John Hutchinson of Norwood Press, "ours was the first printing of the original text between them. In a year, SERIAL was downloaded over 500,000 times, received over a hundred negative reviews, with the consensus opinion that SERIAL is the most depraved, awful thing ever written. It's loads of fun - murder taken to an art form!"
Summary of SERIAL:
Thriller masters Blake Crouch and Jack Kilborn (J.A. Konrath) turn their attention to the twin golden rules of hitchhiking:
# 1: Don't go hitchhiking, because the driver who picks you up could be certifiably crazy.
# 2: Don't pick up hitchhikers, because the traveler you pick up could be a certifiable crazy.
So what if, on some dark, isolated road, Crazy #1 offered a ride to Crazy #2?
When two of the most twisted minds in the world of horror fiction face off, the result is SERIAL, a terrifying tale of hitchhiking gone terribly wrong. Like a deeply twisted version of an "After School Special," SERIAL is the single most persuasive public service announcement on the hazards of free car rides.
Beyond a thrilling piece of horrifying suspense, SERIAL is also a groundbreaking experiment in literary collaboration. Kilborn wrote the first part. Crouch wrote the second. And they wrote the third together over email in 100-word exchanges, not aware of each other's opening section. All bets were off, and may the best psycho win.
SERIAL contains the novella, "SERIAL", a Q&A with Kilborn and Crouch, author bibliographies, and excerpts from their other works: Kilborn's AFRAID and Crouch's ABANDON.
About VJ Books and Norwood Press:
Relationships with today's best selling authors provide a continuous supply of autographed new titles for Norwood Press and VJ Books customers. We offer an impressive selection of back list, rare, out-of-print, and special edition titles for the book collector. Through Norwood Press, we offer specialty publications for such authors as Clive Cussler, Alan Jacobson, Grant Blackwood and Blake Crouch.
Contact:
Virginia Lenneville
marketing(at)vjbooks(dot)com
Facebook: vjbooks
Twitter: vjbooks