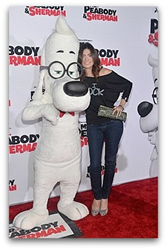 This Wear Luck shirt is so comfortable and love the positive messages- it was perfect for last night Dreamworks/FOX children screening "Mr peabody and sherman". Thank you!
(PRWEB) March 12, 2014
Feel-good clothing company, Wear Luck, announces the recent appearance of their exclusive "I ROCK" top at the red carpet premier of Mr. Peabody and Sherman. Worn by Hollywood actress Blanca Blanco, the top features a trendy off-the-shoulder silhouette and empowering message designed to incite positivity. Featuring "I ROCK" on the front and lettered with "and so do you" on the back, it is intended to enliven both the wearer and each person she encounters.
Blanco first became acquainted with the Wear Luck clothing line at Kathy Duliakas's 6th Annual Celebrity Oscar Suite & Party, held at the Taglyan Complex in Los Angeles, where the actress visited with Wear Luck representatives and learned more about their unique story. Much to Wear Luck's surprise and delight, she donned its "I ROCK" top at the Mr. Peabody and Sherman movie premiere the following week.
The top's recent red carpet debut marks an exciting time for Wear Luck, a clothing line born of the founders' passion for helping and inspiring others. With the introduction of several new lines in the last year, the company is quickly gaining recognition and expects another strong year of growth in 2014.
About Wear Luck
Wear Luck is a clothing line dedicated to creating unique pieces that influence a positive state of mind in the wearer's life. The company offers stylish tops with imprinted messages and symbols to gently remind and motivate the wearer and others around her. Unlike anything traditionally found in a woman's closet, the pieces have been designed and crafted to serve as "clothing with a purpose."
For more information or to view the full Wear Luck collection, please visit http://www.wearluck.com.