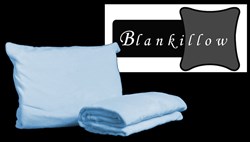 A New Patent Pending Invention that will Revolutionze one's Home and Travel Experience! (Live Now On Kickstarter)
West Bloomfield, Michigan (PRWEB) December 23, 2013
What's a Blankillow? It's a blanket in a pillow.
Ever traveled on a flight or train miserably, uncomfortable and unable to rest? During travel ever experienced trying to rest your head on an uncomfortable pillow or cover with a blanket that continuously is falling off shoulders? Ever landed on the sofa finally relaxing for the day only to be lying on an uncomfortable throw pillow, moreover without a blanket forced to get up and walk upstairs or to the closet to grab a blanket?
If answered yes to any of the questions above, then Blankillow is the solution to those problems. Blankillow is created out of the ever so popular memory foam now even prescribed by doctors to relieve aches, pains, spine issues, migraine headaches, the list is endless. Memory foam pillows follow the natural curvature of the spine, allowing the body to reach ultimate relaxation and relieving pressure points.
We know that time is not always spent at home, so that is why The Travel Blankillow was created.
Traveling uncomfortably on a plane, train, bus or car and having to carry a blanket and a pillow which are both uncomfortable is annoying to do. That is why The Travel Blankillow is the perfect companion, especially for those that are on the go. Blankillow has brought convenience and comfort all in one. During travel, especially on a plane or train ride, the blanket is always falling off one's shoulder. Having to put it back on, time and time again, especially during turbulence. Well now, with the Blankillow, it can be worn as a poncho style blanket. A great relaxing plane ride in comfort resting, nice and snug with your body covered, shoulders covered without ever falling again. Also, while traveling, a typical plane pillow has no support and is not comfortable. The solution is the memory foam pillow we have chosen for The Travel Blankillow. It is not just any memory foam, it is a tooth shaped design memory foam; it wraps around the neck and supports the upper back and lower neck, while in an up-right or reclined position. The horseshoe shape is just not comfortable, thus the travel Blankillow is designed specifically for a seated or reclined position that looks like an over-sized tooth. This is perfect for preventing the head from dangling during turbulence.
Since life is so fast paced now, it is known that there is very little time to relax. Once one has finally laid down in the most comfortable position on the sofa with a new memory foam pillow brought by Blankillow, after a long hard day, the last thing on one's mind is getting back up to grab a blanket. Now, there is no need to. Simply unzip the pillow and cover with this ever so soft plush flannel blanket.
The goal was to make a throw pillow and a throw blanket all in one. The idea behind Blankillow is not just a typical throw pillow, it's one that is actually comfortable. The pillow is made out of memory foam, which is contoured to fit the head and neck perfectly. Most people are sleeping on memory foam in beds to solve insomnia problems. The memory foam perfectly soothes the body to the point of pure relaxation. The memory foam used for The Home Blankillow solves the problem of the always, uncomfortable throw pillows. For the blanket, the thought of combining style and comfort was kept in mind. After testing and feeling various fabrics with a manufacturer, flannel was chosen. However, it wasn't just a typical flannel, it is an extra soft plush flannel that can be snuggled with. The blanket is the softest plush blanket everyone fights to grab.
Like our idea? Keep reading to find out how to help bring Blankillow to Life:
1. Raise awareness: Spread the word about the Blankillow Kickstarter among contacts and friends…the clock is ticking with the campaign!
2. Pledge: Become a backer for the project. All backers that pledge $95.00 or more get a 40% off coupon the purchase outside of Kickstarter once Blankillow is available for retail sale. (This coupon never expires)
Check out the Blankillow Kickstarter Campaign
Like Us on Facebook for updates about Blankillow or for suggestions