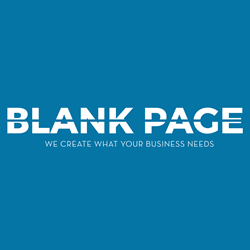 We Create What Your Business Needs
New York City, NY (PRWEB) July 11, 2017
Blank Page, a digital media consultancy based in NY, has launched two new offices in UK and India and is now providing a free expert guidance for businesses and individual entrepreneurs in Great Britain, Europe and Asia. The company ensures that businesses that want to grow and implement branding, website, system software, e-commerce platforms, portals, social media, mobile app and more will get the best possible products. Blank Page has set an aim to make the digital world easily accessible to anyone worldwide. The company helps businesses achieve their goals by providing free consulting which results in understanding each business' needs, finding the expert providers for all required services and getting the best price on the market without compromise in quality by auctioning the offer between hundreds of providers.
The company helps businesses avoid common mistakes and pitfalls they face if they don't hire professionals to run their digital presence. "Many businesses are taking care of their social media or marketing efforts themselves, as they often don't realize the importance of professional approach or cannot afford services of the top digital agencies. We are proud to cut this gap and make the digital world trends accessible to anyone around the globe," – says the company Founder and CEO, Eyal Yoseph.
"We have decided to help business owners worldwide to dive into the digital market with no hustle. By cooperating with professional providers and having them bid for the service, so we can assure any business receives digital tools at the best price with no harm to there return on investments. We simply provide businesses with ready-to-use instruments ensuring that they meet client's expectations and deliver desired results." – adds Eyal Yoseph.
About Blank Page: Blank Page is a Digital Media Consultancy located in NY and Israel. Founded in 2009, the company has helped more than 1000 global clients, from leading global brands to small local businesses, to get the best possible results out of their digital presence. Blank Page has been ranked as one of the leading digital consultants in 2017.