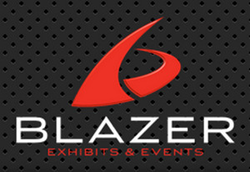 "Buyers really just want a Worry-Free and Predictable purchase experience with Less Hassle, Less Cost and No Problems during booth setup at the event."
Fremont, CA (PRWEB) March 06, 2017
Blazer Exhibits, a trade show exhibit company based in the San Francisco area, released the 2017 Buyer's Protection Guide. It is the industry's first information resource to address hidden cost, spot poor customer service signs early and avoid unexpected trade show booth quality issues when shopping for a custom trade show exhibit house. Event managers have enough on their plate without the added stress of companies who over-promise and under-deliver. The exhibit firm raises buyer awareness on the trade show sales cycle and provides extensive information on their website.
Blazer Exhibit's Marketing Manager Robert Browning says "buyers are increasingly frustrated when shopping for a Reliable Exhibit House. Buyers really just want a worry-free and predictable purchase experience with less hassle, less cost and no problems during booth setup at the event." The typical problem is that buyers can't tell which trade show booth company is any better than the next because the sales messaging begins to sound the same from trade show booth design company to the next. Buyers take a chance and end up with a bad experience.
Event Managers can protect their company from being gouged and get more mileage for their budgets by downloading and reading the Buyer's Protection Guide. The guide will help event managers protect their marketing budget and become an informed buyer. Download the guide here.
The Top 3 Exhibit House Red Flags
1 – Hidden Cost
2 – Inconsistent Exhibit Quality and Materials
3 – Poor Customer Service and Quote Details
About Blazer Exhibits and Events
Clients want to focus on their customers, networking and their sales during a show; not on the details of their exhibit, labor or freight. Blazer Exhibits & Events is a full-service business that specializes in the design and fabrication for exhibits, events, corporate interiors, museums, retail environments with turn-key solutions for show services and management. Blazer Exhibits & Events' trade show booth rental solutions extend flexibility for trade show participants on budget.
A global network of partners along with management and design teams based in Fremont, CA support clients domestically and globally across a wide variety of industries including Hi-Tech, Medical, Food, Travel, Aviation, Apparel, and more. "5 Star" services, attention to detail and frequent client communications ensure client satisfaction and removes the stress and pressure associated with trade shows or events.
For more information, please visit http://www.blazerexhibits.com/
Contact Info:
Name: Dave Graham
Organization: Blazer Exhibits and Events
Address: 4227 Technology Drive Fremont, CA 94538, United States
Phone: +1-408-263-7000
Facebook: http://www.facebook.com/blazerexhibitsandevents