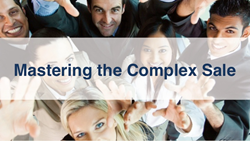 Blended sales training - combining Fortune 500 sales training programs online and classroom sales simulations - are now available to all companies.
Scottsdale, AZ (PRWEB) July 30, 2014
Sales Horizons, a leader in sales training programs, today announced the launch of blended sales training programs for companies engaged in complex B2B sales.
Created from proven sales training programs used by thousands of salespeople over 25 years in market-leading Fortune 500 companies, Sales Horizons' blended sales training program can be customized to address the unique sales challenges of companies in any industry.
The blended sales training program consists of two parts: Mastering the Complex Sale, an online sales course containing core sales skills plus a sales simulation where core concepts introduced in the online sales training course are applied to those unique company sales challenges.
The online sales training course - Mastering the Complex Sale - is divided into 18 lectures that cover these sales skills:

Networking
Establishing Credibility
Handling Objections
Call Planning
Opening Calls
Closing Calls
Selling Value
Active Listening
Asking Questions
Positioning Solutions
Post-Call Planning
Team Selling
Using Social Media
Storytelling
Sales simulations are total immersion sales training experiences that replicate a company's market place. Sales knowledge and skills introduced in the online sales training course – Mastering the Complex Sale – are applied and reinforced through practice and feedback around sales challenges specifically customized to the company.
Richard Ruff, co-founder of Sales Horizons, said, "We have offered sales training to companies engaged in complex B2B sales for years. We think the optimal choice is blended training where the training done in the classroom is only the training that can uniquely be done in a classroom. So we placed our proven sales training programs onto Udemy's online training system. Now companies can access online the same sales training we offered to the Fortune 500 online and add sales simulations – making their sales training effective, efficient, and affordable."
Sales Horizons offers discounts to companies who purchase multiple licenses for their sales teams Open enrollment allows salespeople to register and take Mastering the Complex Sale immediately. Take a look here.
_______
Sales Horizons offers a new generation of online sales training built for today's disruptive business environment. The purpose of starting Sales Horizons was to transfer the experiences learned from managing sales training projects for Fortune 500 companies like Xerox, Apple, GE, Smith & Nephew, UPS, Canon, and Microsoft into a set of bet practices that could be delivered to anyone, anyplace, anytime. They also blog at the salestrainingconnection.com
Contact: Janet Spirer, Ph.D. - Principal, Sales Horizons
9280 E. Thompson Peak Parkway - Suite 36
Scottsdale, AZ 85255
Tel: 480-513-0900
janet(at)saleshorizons(dot)com
Web: http://www.saleshorizons.com
Blog: http://www.salestrainingconnection.com