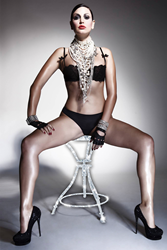 "All I want is for people to give me the chance," Bleona has been quoted as saying, "and if they don't give me a chance, I'm going to take it anyway!"
Beverly Hills, CA (PRWEB) August 01, 2014
Following on the success of her most recent hit singles "Take It Like A Man," "Without You," and "Pass Out," the latter a collaboration with Timbaland and Brasco, Bleona is preparing to set the world on fire with her upcoming single "FUIF (F*** You I'm Famous)." Although the single won't be released on iTunes until September 15th, it was already premiered at party master Jeffrey Sanker's legendary White Party in Palm Springs, California on April 28th this year, where over 30,000 attendees grooved to the powerful anthem. In addition, the "FUIF" video was released on YouTube in May, and has already amassed almost 50,000 views.
By this evidence, it should be apparent that Bleona is ready to take America by storm, much as she has already conquered her home country of Albania. Bleona has been an international superstar since she first toured Europe in her early teens, but has been an undeniable pop diva since regularly appearing on Albania's own House of Pionieri at the age of five. From there it was only a matter of time before the precocious 9-year-old would commandeer the microphone at a Christmas party full of dignitaries and rock the house for a solid two hours.
By this point, her destiny was set. Bleona began producing albums and making a name for herself in Europe with her hit singles and elaborate stage shows. Coming from a country where a career in pop music wasn't the norm, Bleona not only broke all of the rules to achieve her unprecedented success, she made rules of her own. She created Albania's first pop music videos, and most recently left the comfort and security of a mega-successful career in Europe to focus on multiple television projects in the United States and conquering the charts in America.
"All I want is for people to give me the chance," Bleona has been quoted as saying, "and if they don't give me a chance, I'm going to take it anyway!" A sterling example of her "don't take no for an answer" attitude came not long after she performed an exclusive concert for Donald Trump at his Palm Beach, Florida resort. Pleased with her performance, the billionaire business mogul introduced Bleona to Canadian record producer David Foster, who was instantly intrigued by the energetic songstress and subsequently invited her to the Grammy's where she was introduced to legendary rapper and producer Timbaland. The Grammy-winning producer was impressed with Bleona's relentless efforts to work together and finally gave in to her tenacity.
The success of Bleona's collaborations with Timbaland prepared her to work with powerhouse producers Alex Cantrall, Fuego and Roccstar on her new blockbuster single "FUIF," which she describes as an anthem for "every girl who tries to get into a hot club but gets turned away because she's perceived as not hip enough." The tongue-in-cheek satire of "FUIF" proves that one can still have a laugh while getting a serious groove on, and the song should cement Bleona's reputation as the uncompromising voice of female empowerment for our time.