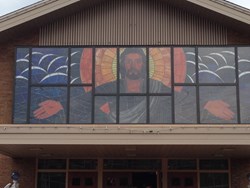 "Blessed Sacrament Church in Wintersville, Ohio lights up Stained Glass Mural
Wintersville, Ohio (PRWEB) November 20, 2013
Monsignor Kurt Kemo responds to Associated Crafts completion of the project at Blessed Sacrament Church in Wintersville, Ohio with enormous praise: "I could not be more pleased. Everyone from the beginning of the project has gone beyond expectation."
Even with looming deadlines with several other churches, Associated Crafts delivers wonderful results and is flooded by client praise and thanks. After meeting deadlines for the creation of a stunning stained glass project in Illinois, and a restoration project in Petersburg, Virginia, Associated Crafts completes all projects in a stunning fashion, despite fighting inclement weather in Virginia.
Fr. Brian from Saint Joseph Catholic Church in Petersburg, Virginia: "Excellent Service and attentiveness to Church schedule and dealing with weather. Very professional."
John Phillips Jr., president and CEO of Associated Crafts, is no stranger to praise for a job well done. Associated Crafts has been family owned and operated since 1974, and has been helping churches around the world find their identity through the beauty of church stained glass.
Church stained glass windows are believed to have been a part of Christian churches and monasteries since the 4th and 5th centuries. Many churches around the world have these ornate patterned stained windows dating back hundreds of years and have since found themselves in dire need of restoration and servicing.
Abbe Suger is known as the "Father of stained glass" and wrote about the importance of stained glass windows back in 1127: "The pictures in the windows are there for the purpose of showing people who cannot read the Holy Scriptures what they must believe."
Although styles, meanings and interpretations of church stained glass windows have changed over the years, their relevance to the message and importance to the church remains, so preserving, restoring and manufacturing stained glass windows continues to be a passion for John Phillips Jr. and Associated Crafts.
For more information about Associated Crafts, to see other recent projects, or to review their no-obligation, hassle free appraisal, visit: http://church-stained-glass-windows.com/, or call 888-503-1184.