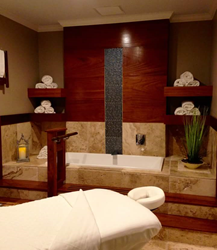 We have tested the water and discovered that it offers wonderful mineral content that is important to our body, but also the purity of the water is superb".said Shelly Summe.
Cincinnati, OH (PRWEB) November 17, 2015
Bleux Water Spa, located in Greater Cincinnati, is the Midwest's only natural mineral water spa. This deluxe state-of-the-art spa delights customers with their world-class spa services combined with the benefits of natural mineral water throughout their spa.
"When we talked about opening this spa," said co-owner Shelly Summe, "we knew we wanted people to benefit from the natural mineral water. We devised an intricate system of water pipes and a pumping station that would allow us to offer this incredible water at every tap, tub and shower spigot in the spa."
The water is the most important thing about Bleux Water Spa, and the only natural mineral water spa in the Midwest. While other regional spas offers hot water Sulphur spas, only Bleux Water Spa has water pure enough to bathe in, as well as to drink. This natural spring is believed to travel more than 1300 miles from Canada, making its way to what is now the Mariemont community of Cincinnati. Bleux Water Spa is sitting on what was once the location of the Crystal Fountain Springs bottling plant.
History tells us that this spring was once the central spot of a cottage resort with gardens, fountains and ponds decorating the landscape. Around 1930, the property was purchase by a new owner who bottled the water under the name of Glacier Springs, until 1970. But as progress has its way, the spring was going through the N&W Rail yards and the well was closed in 1974. Most people in the area believe the railroad did not want the in-and-out traffic of water-lovers filling their bottles.
In 2013 there was a landslide on the back of the property where Bleux Water Spa now sits. In doing land assessments and core samples, they struck the underground aquafer, bringing to surface once again the pure mineral water at a clean and cool 50 degrees.
"We have had the water tested multiple times," says Shelly Summe, "and discovered that it offers not only wonderful mineral content of magnesium bicarbonate, silica, and calcium bicarbonate, all important minerals to our body, but also the purity of the water is superb. This makes it a healthy and very beneficial drink. What we do here is to provide people a way of taking it into their bodies by drinking it, but also by soaking in our tubs."
The Bleux Water Spa offers a full range of spa services, including a variety of massage therapies, skin and facial treatments, body wraps and nail services. But the cornerstone of the spa is found in their soaking rooms. Many of the 12 service rooms are completed with a temperature controlled tub which can be set to the comfort of the client. Some like it hot while other people prefer the cooler temperature of the natural spring which is a constant 50 degrees.
The goal of Bleux Water Spa is to provide a way for people to not experience this water once or twice a year, like they would a traditional day-spa, but to incorporate it into their lifestyle. They offer monthly memberships with unlimited soaking available or packages with additional services like massage or skin therapy. Each membership provides unlimited filling of bottles for drinking. Of course all services can be purchased ala cart as well.
One of the things that has pleased the owners is that their clientele is about 50-50 male and female, giving credence to the fact that their décor, primarily hand made of exotic woods by co-owner Kyle Henson, appeals to both sexes. As does their array of services, and of course, their incredible water.
Bleux Water Spa is open seven days a week and available for parties, events, meetings and gatherings. A complete list of their services and hours can be found on their web site.
"Our focus at Bleux Water Spa is to provide our guests with a unique version of historical spa services in a state of the art, luxurious environment accompanied with world class service. It is our goal to have our guests leave feeling naturally rejuvenated and thoroughly relaxed," said Shelly.
For more information or to schedule an interview or appointment, contact
Shelly Summe
Bleux Water Spa
7257 Wooster Pike, Cincinnati, OH 45227
513-376-7895