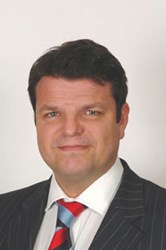 We wholly support the campaign to stop other children from being killed or injured in accidents like these.
Poole, Dorset (PRWEB UK) 29 November 2013
Personal injury solicitors Coles Miller are backing a new blind cord safety campaign after 27 child deaths in 14 years.
Lawyers at the Dorset firm are supporting the Daily Echo newspaper's Legacy for Lucy campaign.
The Echo launched the campaign (1) with mother Annette Latimer whose two-year-old daughter Lucy died after becoming tangled in a looped blind cord in her bedroom.
There have been 27 child deaths involving blind cords since 1999. Fourteen children have died in the last three years alone.
In July 2012 Coles Miller teamed up with Poole-based Broadview Blinds to help raise awareness of the issue of safety.
Together Coles Miller's accident lawyers and Broadview helped to promote safety features such as:

Cord cleats – which secure the cord to the wall, preventing the loose loops in which children can become entangled
Electric blinds – which do not use cords
Easy break connectors – which come apart under pressure, reducing the risk.
Coles Miller Partner Adrian Cormack, who leads the firm's personal injury team, said: "The death of a child is always tragic but never more so than when it could have been avoided.
"We wholly support the campaign to stop other children from being killed or injured in accidents like these.
"We would urge everyone who has blinds or is planning to install them to fit cord cleats or similar safety devices. They are cheap, simple and they save lives," he added.
Blind cord safety measures have the backing of the Royal Society for the Prevention of Accidents (RoSPA).
The Echo campaign is also being supported by Christchurch MP Christopher Chope who says that manufacturers have a duty of care to their customers.
Coles Miller has five offices in Bournemouth, Poole, Broadstone, Charminster and Wimborne. Its specialist personal injury team helps clients throughout England and Wales.
Some of the most complex cases involve compensation claims for head, brain and spinal injuries.
Some of them can be as a result of clinical negligence. Others are due to accidents on the roads or at work.
For more information, please contact Coles Miller Solicitors Partner Adrian Cormack, 01202 673011.
(1) Legacy for Lucy campaign, Daily Echo, Bournemouth, 25 November 2013.
-Ends-
Notes For Editors
Coles Miller is one of Dorset's leading law firms with offices in:

Poole - (01202) 673011
Charminster - (01202) 511512
Bournemouth - (01202) 293226
Broadstone - (01202) 694891
Wimborne - (01202) 935039
Coles Miller is one the largest law firms in the region with 13 Partners and around 115 staff. It traces its history back to the late 1920s.
As well as providing a full legal service for the private client, the firm also has one of the largest dedicated commercial departments in the Bournemouth and Poole area.