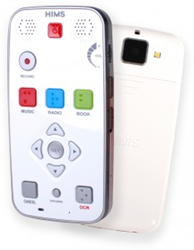 . . . this is the first time that the blind have had OCR built into a digital book player.
Austin, TX (PRWEB) May 29, 2014
Blaze EZ, a new device available from Austin, Texas-based HIMS Inc. is likely to become a favorite among those with visual impairments. Those who are blind now have independent and fast access to printed materials from a digital book reader without the need for a laptop, camera, scanner or personal assistance from a relative or friend. This new device, aptly described by its makers as a 'multi-player' is about the size of a deck of cards, and in addition to OCR text-to-speech access to printed text has the capability to read and/or play a host of digital document and media formats including eBooks, DAISY books, Word documents and PDF files, music, internet radio and more.
This new device was announced just this spring at the CSUN International Technology and Persons with Disabilities Conference in San Diego, California yet already the Internet and assistive technology (AT) community are buzzing with anticipation. Teachers of the visually impaired (TVI's) and occupational therapists (OT's) have been very vocal about their excitement about what this could mean for their students and clients. Students will now be able to listen to their textbooks in DAISY and other digital formats, and then take their Blaze EZ into the library for instant access to printed text with the touch of just a single button. Professionals can scan and sort mail, review interoffice memos and even browse an Applebee's menu independently while at lunch with their coworkers.
Blaze EZ features high-quality stereo speakers for high quality audio output and a built-in microphone for recording school lectures or business meetings. Built-in Wi-Fi adds easy access to podcasts, internet radio and downloadable content such as DAISY and eBooks. An FM radio and talking clock round out the features of this tiny yet powerful device for the blind.
HIMS Inc. Education Business Development Manager, Dave Wilkinson, who is blind himself shared "Independent access to printed text while away from a personal computer, is something that very few devices have been able to do really well and this is the first time that the blind have had OCR built into a digital book player. Apps for iPhone and Android devices have claimed to have this ability but anyone who's blind who has tried them knows that it's just not an optimal solution. Blaze EZ delivers an excellent result in a variety of lighting and environmental settings – even when the document itself is upside down or sideways!"
Blaze EZ, introductorily priced at $695, includes a ten-hour rechargeable battery and is expected to begin shipping in late June 2014. To learn more about HIMS and their full line of products for those with low vision or who are blind, please visit their website, http://www.hims-inc.com or call 888-520-4467 to speak to an assistive technology specialist today.
Since its founding 15 years ago, HIMS has been devoted to improving opportunities for the visually impaired through the development of technology products for the blind and low vision. HIMS Inc., an Austin, Texas-based company that specializes in assistive technology products is a wholly owned subsidiary of HIMS International Corporation.