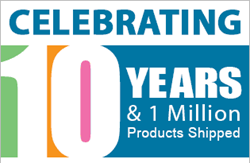 We have strived over the years to make sure customers' purchases are easy and worry-free as possible for a custom product.
Denver, CO (PRWEB) April 25, 2014
BlindSaver.com sold its first custom blind on the Internet. One million products later, it is celebrating a 10-year milestone with the introduction of the PerfectFit™ for You replacement guarantee.
This guarantee ensures that BlindSaver customers are truly satisfied with their purchase. If for any reason a customer is not completely satisfied with a blind or shade, it will be replaced for no charge including return shipping. The PerfectFit™ For You replacement guarantee is included with the purchase of any blind or shade displaying a PerfectFit™ For You seal, which covers most products on the website.
While free shipping has become standard practice for online custom window covering sales, complimentary returns is new and is poised to become the new standard in customer centric retailing of custom products online. Blindsaver.com became one of the first online retailers to offer no hassle replacements in the event of a measuring error to eliminate the anxieties many DIY shoppers face when ordering blinds and shades online. The new PerfectFit™ For You program takes the replacement guarantee a leap forward allowing customers to exchange a product for many additional reasons. The color doesn't match the couch like you thought it would? Not happy with how much light your window shade filters? Is your cat eyeing the cord mischievously and you want to exchange it for a cordless blind? Whatever the reason, the consumer is guaranteed the perfect window treatment for their home.
"We have strived over the years to make sure customers' purchases are easy and worry-free as possible for a custom product," said Tim Baker, president of BlindSaver.com. "From our talented and knowledgeable customer service team to our industry leading blind builder, how-to-measure videos and free samples, our entire business is built around customer satisfaction. Our commitment to customer service is genuine."
Based in Denver, Colorado, BlindSaver grew from Denver Window Coverings, a custom window treatment and home décor store founded in 1996. The company grew quickly and began selling its products online seven years later as BlindSaver.com. Today, BlindSaver is a Deneva Inc. company and one of the leading custom window treatment websites in the U.S. In 2012, BlindSaver.ca was added to serve Canadian customers.
Read more about the PerfectFit™ For You replacement guarantee.