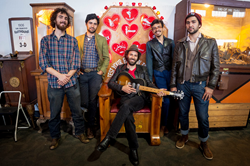 Everyday Is Judgment Day has just landed on the list of the most impressive albums of the year. - Wasser-Prawda Magazine
San Fransisco, CA (PRWEB) December 05, 2014
San Francisco band, Blind Willies, release their fourth full-length album, "Every Day Is Judgment Day," following their critically acclaimed 2011 release, "Needle, Feather, and a Rope." "Every Day is Judgment Day" is an album about 'freedom and whatever the opposite of freedom is, within ourselves and in our relationships with others.' The new release honors the band's previous work, and with this musically diverse album takes the musicians into territory that singer/songwriter Alexei Wajchman seems determined to confront head-on. 
Led by Alexei Wajchman, Blind Willies toured Europe recently and attracted crowds of fans in every age group, from children passing by as the band busked on the streets of Ireland, UK, Netherlands, Germany, and Belgium, to more mature audiences in intimate gigs on the house concert circuit. The band was a hit in popular professional music venues, from Cork, Ireland's Crane Lane Theatre to the Lyme Folk Festival on the UK's south coast, from Amsterdam's Magneetfestival to Hamburg, Germany's Musicstar. 
Blind Willies members include Misha Khalikulov (cello), Alex Nash (drums), Adam Nash (guitar), Daniel Riera (bass, flute), Max Miller-Loran (keyboard, trumpet) and Alexei Wajchman (vocal, guitar, harmonica).
A blend of folk, blues, Americana, and rock 'n' roll, the songs on "Every Day Is Judgment Day" were written by Alexei Wajchman, produced by Blind Willies, recorded by Justin Phelps (Dresden Dolls, CAKE), and mastered by John Baldwin (Neil Young, White Stripes). "Every Day Is Judgment Day" is a tribute to the extraordinary lives and work of Pete Seeger, Maurice Sendak, Lou Reed, and Irena Sendler (a Polish social worker who saved thousands of children from being exterminated), to whom the album is dedicated.  
For more information, images, or to arrange for an interview, please contact Melissa Zeigler at Powderfinger Promotions: melissa(at)powderfingerpromo(dot)com.
Powderfinger Promotions–Independent Radio Promotion and Publicity. Since being founded in October 1994, Powderfinger has come to be regarded as a top indie radio promotion and publicity firm with ties across North America.