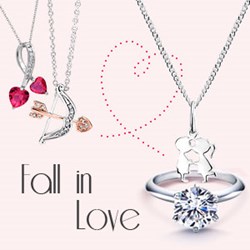 If he gives you a necklace, it means you're his. If he gives you a ring, then you're his forever.
New York, New York (PRWEB) January 30, 2014
When it comes to relationships, there are countless signals to watch for that can help determine if a relationship will flourish and turn into something beautiful, or is simply a casual fling that is here today, gone tomorrow. Internet retailer BlingJewelry.com points out that one of the most clear and simple of these signals is the kind of gifts that are exchanged during the holidays, and especially Valentine's Day.
The plus side of having the social pressure to exchange gifts is that it coerces people into expressing how they feel about the relationship without having to outright say it. Their approach to gift selection, attention to detail and thoughtfulness all shed light on their levels of emotional investment. However, depending on the stage of the relationship it also opens the door to miscommunication between what a gift is meant to signify and what the receiver perceives it as.
Take for example the two most common Valentine's Day gifts, jewelry and a box of chocolates. Both are seen as romantic and traditional Valentine's gifts, however, they express two very different attitudes about the relationship. The first signifies investment, commitment and thoughtfulness, while the second hints at non-commitment and a very casual and effortless approach.
Feeling the social pressure to woo their Valentines without sending mixed messages, men often struggle with finding the perfect gift that communicates their intentions clearly. Luckily for both parties, BlingJewelry.com brings a quick and practical approach to demystifying Valentine's Day gifts and the meaning behind them.
The Internet retailer claims that the number one way of judging the meaning behind a gift is how much of a man's resources went into it, whether that is time or money. Looking back at the example of jewelry and a box of chocolates, one requires a significant investment of time and money on selecting a flattering piece that will complement the woman's unique style, while the latter is effortless, inexpensive and most likely purchased hours if not minutes prior to the meeting.
Looking at gift giving from the men's perspective, this makes total sense as if he doesn't think the relationship is serious or will last too long, he would choose the easier route of giving something small and relatively inexpensive. Why would he want to spend hundreds or thousands of dollars on somebody that he doesn't see as a potential life partner?
Now if he does go with something more significant, like beautiful jewelry or maybe even an expensive necklace, this shows serious commitment. As Millionaire Matchmaker's Patti Stanger says, "If he gives you a necklace, it means you're his. If he gives you a ring, then you're his forever."
Bling Jewelry isn't advising that traditional gifts like a bouquet of flowers, box of chocolates and a Valentine's card means that the man is simply interested in a casual fling, however, they are much lower on the commitment scale when compared to a beautiful necklace personalized with an engraved sentimental message or a cubic zirconia promise ring that acts as a placeholder for a future diamond.
With Valentine's Day soon approaching, it's best to start the gift shopping early and not risk sending the wrong message with a last-minute find. A great suggestion for a thoughtful and affordable gift is fashion jewelry, which women prefer over flowers or chocolate any day. Head over to BlingJewelry.com or OverstockJeweler.com for a huge selection of stylish and affordable jewelry, which can also be engraved with a sentimental message or encased in an elegant gift box.
At the end of the day there's one thing to remember: Valentine's is a day of expressing love and affection, so don't overthink it – just show them that you put real effort into the gift, which is all that truly matters.