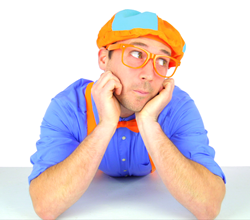 I created Blippi to provide content for my nephew. It has been such an amazing journey and I'm very honored to be able to now create content for millions of children."
Seattle, Washington (PRWEB) April 28, 2017
Stevin John has made an exciting announcement today, after joining the Amazon Instant Video family, "Blippi" has now been a six-time Amazon Video Direct Star. This means the world-renowned children's show "Blippi" has been in the top 100 performing self-published shows/movies (all genres) every month since going live on Amazon! Stevin attributes his Amazon Video success from the brands strong following on YouTube.com, meanwhile picking up exponential organic growth on Amazon from parents' word of mouth mentioning how "Blippi" is now on Amazon.
"Blippi" has recently reached one billion views on YouTube.com, which the success of the character seems to not only be for YouTube. Stevin John stated "Children seem to really fall in love with the character of Blippi, it's apparent to me due to the success we receive on all the platforms we decide to move forward with. The popularity has even astonished myself."
Stevin is said to have plans to create an exclusive Amazon Original Series or Netflix Original Series which will be an upbeat characteristic lifestyle show featuring Blippi. He believes this will be the next big milestone for the brand to achieve. Netflix and Amazon have seen huge success from developing these original series' and they seem to keep catching fire. Amazon has seen enormous amounts of viewership from their series' "Man in the High Castle", "Transparent", and "Bosch". As Netflix has with their hit flicks like "13 Reasons Why", "Black Mirror" and "Stranger Things". Stevin will create the show of Blippi's 25-30 minute episodes and it will be exclusively available on one of these platforms.
Blippi and BlippiToys together are a top 100 overall YouTube brands. In the last 30 days on YouTube alone, Blippi has received over 120,000,000+ views. Blippi is at a constant climb and shows no sign of stopping. Stevin is focusing on children's educational entertainment and Blippi (his flagship IP) has been an amazing success. "I created Blippi to provide content for my nephew. It has been such an amazing journey and I'm very honored to be able to now create content for millions of children." said Stevin John. You can check out his channels by searching for Blippi or Blippi Toys on YouTube or Amazon.