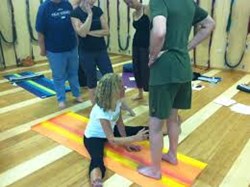 We are so pleased to be able to offer this training for those interested in helping themselves and older adults find creative ways to reduce the stress of growing older.
Chicago, Illinois (PRWEB) December 10, 2013
Stacy DiGregorio, owner of Blissed Out Yoga and Thai Bodywork, a popular local yoga studio located in Elmhurst, Illinois, today announced it will offer Boomer Plus® Therapy and Yoga Rehab Teacher Training with Amy Kraft, E-RYT 500, on January 15-19. Cost for the training is $675.00. An early bird discount price of $595 is available for registrations received before December 15. Yoga teachers receive 30 Yoga Alliance® CEUs. For more information or to sign up, stop by the studio, located at 381 N. York Street, Suite 24 in Elmhurst, Illinois or phone (331) 642-8198.
DiGregorio says this teacher training is ideal for health care professionals; physical, occupational and massage therapists, chiropractors, yoga teachers, family members of older adults and caregivers. "We welcome those who are interested in growing their business by tapping into this expanding market, those who want to upgrade their knowledge base and skills or increase their competence level and confidence, as well as anyone interested in the health and well-being of the baby boomer generation."
This innovative and comprehensive teaching program will be presented by yoga therapist and educator Amy Kraft. The training covers observation and assessment; breathing techniques; integration of body, mind and spirit; postural alignment and biomechanics (physical, emotional, mental); functional anatomy; marketing; therapeutic techniques and their applications; therapeutic techniques for specific health issues; and exercises and practices for daily living situations, specifically geared to the unique needs of the boomer population.
Amy Kraft brings to Blissed Out her 35 years of yoga experience, including 2,000+ hours of anatomy and biomechanics training. She is a pioneer in the field of integrative yoga and rehab and a member of the International Association of Yoga Therapists, as well as designated E-RYT 500 with Yoga Alliance®.
Firm in the belief that yoga can be an essential tool on the road to achieving optimal health and wellness, Amy developed BoomerPlus® Yoga as a health and wellness system for anyone seeking a healthier, more active lifestyle at any stage of the aging process. As she noted in a "Baltimore Examiner" interview earlier this year, "Getting older is very stressful. Your body changes, friends die, anxiety and fear increase… However, yoga can help to reduce a lot of this stress by helping them to relax emotionally, physically as well as spiritually."
"This training will give students a deeper understanding of how to apply biomechanical principles and therapeutic applications to educate and promote healthy aging for the BoomerPlus generations," said DiGregorio. "We are so pleased to be able to offer this training for those interested in helping themselves and older adults find creative ways to reduce the stress of growing older."
To learn more about Blissed Out Yoga and Thai Bodywork and view the class schedule, visit its website at blissedoutyoga.net. Follow Blissed Out on Facebook (blissedoutyoga) and Twitter (@blissedoutyoga) for class updates and the latest news from this Elmhurst yoga studio.
About Blissed Out
Blissed Out (http://www.blissedoutyoga.net) is a yoga and Thai bodywork studio located in downtown Elmhurst, Illinois. Blissed Out welcomes yoga fanatics and newcomers alike with a range of yoga classes and workshops that include Hatha, Vinyasa, Ashtanga, "Mommy & Me", acro-yoga and more.
About Amy Kraft and BoomerPlus® Yoga
To share her expertise, particularly in the field of senior health, Amy created BoomerPlus® Yoga. Business Success+, a division of BoomerPlus®, helps maintain employee health using techniques developed from Amy's experience during her career as a Wall Street executive prior to retiring and launching her therapeutic wellness programs. Business Success+ provides the employer with a unique program designed to help lower health care costs, decrease employee stress and reduce lost time from illness & injuries. Business Success+ programs, BoomerPlus® classes & workshops and individual sessions with Amy are available locally, at various locations throughout the U.S. and worldwide via the Web.