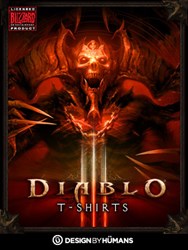 Creative directors at Design By Humans and Blizzard Entertainment selected the top five designs from over 700 fan submissions.
Chico, Ca (PRWEB) December 19, 2013
Design By Humans is pleased to announce the winners of the Diablo® III T-shirt design contest which ran from August 12 – October 21. Creative directors at Design By Humans and Blizzard Entertainment selected the top five designs from over 700 fan submissions, which then split more than $12,000 in cash and prizes. All five special edition designs are now available for purchase at DesignByHumans.com.
The contest drew 703 submissions from artists around the globe who were tasked with creating a T-shirt design inspired by one of the demons, angels, or character classes that appear in the wildly popular Diablo III video game. The result was a highly competitive contest that produced some of the best artwork on Design By Humans since its launch in 2007. The winning entries came from across the globe, emerging from Russia, the United States, and the Philippines.
The Winning Diablo® III Tees
Design By Humans and Blizzard Entertainment congratulate TamplierPainter, an artist from Russia, for taking top honors with his intense 'Mephisto - Lord of Hatred.' The runners-up in descending order were: silentOp, for his 'Ruthless' Barbarian illustration; gloopz, with his majestic Tyrael piece, 'The Great Conflict'; Studio8Worx, with some incredible texture work in his depiction of a Witch Doctor in 'Majestic Spell'; and DrSpazmo with another detailed illustration of Mephisto in 'Lord of Hatred.'
Each shirt is professionally printed with vibrant inks on durable soft cotton shirts. These special edition Diablo III shirts are only $24 each, and if you want to pick up the entire collection, you can get them exclusively on the Design By Humans website. All of the winning Diablo III designs are also available as phones cases for iPhones and Galaxy s4.
The Diablo III T-Shirt Design contest, co-sponsored by Blizzard Entertainment, drew over 500,000 views for the contest and voting pages. The contest page reached 197 countries, and drew submissions from 51, with a total of 6,257 votes tallied by the time the contest ended on October 21, 2013.
About Design By Humans
Design By Humans was started in 2007 with the simple vision of bringing artists from around the globe together to give them a platform to produce wearable art that tells a story, strengthens humanity and inspires life through creativity and design. The DBH Collective initiative is inspiring amazing artists and giving a unique foundation to share artwork through a personal online storefront. Additionally, proceeds from each sale go directly to the artists, which allows them to continue creating art.
About Blizzard Entertainment and Diablo III
Best known for blockbuster hits including World of Warcraft® and the Warcraft®, StarCraft®, and Diablo® franchises, Blizzard Entertainment, Inc. (http://www.blizzard.com), a division of Activision Blizzard, is a premier developer and publisher of entertainment software renowned for creating some of the industry's most critically acclaimed games. Blizzard Entertainment's track record includes sixteen #1-selling games* and multiple Game of the Year awards. The company's online-gaming service, Battle.net, is one of the largest in the world, with millions of active players.
###
If you'd like more information about this topic, or to schedule an interview with Jeff Sierra, please call Roxanne 8am to 1pm at +855 333 9836 or email press(at)designbyhumans(dot)com.