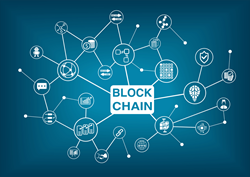 "Today's retail applications are proving that blockchain definitely lives up to its hype," asserted Eaton-Cardone. "I believe blockchain has the capacity to completely reshape the retail landscape within the next five years."
TAMPA, Fla. (PRWEB) November 28, 2018
A recent analysis of blockchain in retail projected its market value will be 29 times higher in 2023 than 2018—rising from $80 million to more than $2.3 billion—at a compound annual growth rate of 96.4%.(1) Though only 6% of businesses are ready to use blockchain for payment initiatives today, survey findings suggest 13 times as many will be onboard within the next five years.(2) Monica Eaton-Cardone, a FinTech executive specializing in risk management and fraud prevention, examines the challenges that have hindered blockchain's implementation to date and the applications that are likely to fuel widespread adoption in the future.
Most commonly associated with bitcoin and other forms of cryptocurrency, blockchain is a form of distributed ledger technology (DLT) that records interactions, transactions and transfer of value over a peer-to-peer network in lieu of a centralized authority or coordinating entity.(2) While just 6% of companies are ready to embrace blockchain now, another 9% are less than a year away and a further 43% set their timeline at one to three years; within the next five years, fully 78% of businesses say they will be ready to integrate DLT for payments.(2) However, the retail sector has already begun using blockchain for other applications,(3–5) and Eaton-Cardone believes these successful use cases can help hasten adoption rates throughout the industry.
"Bitcoin has suffered high-profile hacks and wildly fluctuating prices in recent years, so wariness of cryptocurrency has led some to be leery of blockchain by association. But the technology is starting to spread throughout the retail industry now that early adopters are proving its real-world potential," said Eaton-Cardone, who serves as Chief Information Officer (CIO) of Global Risk Technologies and Chief Operating Officer (COO) of Chargebacks911. As more companies discover blockchain's usefulness in solving some of retail's biggest challenges, Eaton-Cardone says it should become clear why its market value is expected to soar nearly 30 times higher in just five years.
Eaton-Cardone points to five blockchain applications that are changing the face of retail:
1. Supply Chain Management – Blockchain is able to capture a data trail that can trace a product from its source to retail shelves, and all stops in between. For example, Walmart and IBM have partnered on a blockchain-based Food Traceability Initiative that can identify the origin of produce almost instantaneously; instead of taking nearly a week, that data can now be retrieved in just 2.2 seconds.(3) This is critical in cases of food-born illness outbreaks and safety recalls. It also enables retailers to demonstrate compliance with regulations aimed at eliminating slavery and human trafficking from supply chains and allows merchants to unequivocally assure customers that products are ethically and/or sustainably sourced.(4)
2. Inventory Management – Blockchain is making it easier for merchants to track the location of goods—from manufacturer to warehouse to backroom to checkout—and replenish inventory in enough time to avoid backorder and out-of-stock scenarios, which reportedly cost retailers worldwide nearly $1 trillion each year.(3)
3. Authenticity Verification – Counterfeiting and theft are ongoing problems for manufacturers and retailers, whether it's knockoffs of high-end goods such as handbags, fragrances and watches or criminals trying to sell stolen art or automobiles to legitimate dealers. Blockchain trails can help manufacturers detect product diversion and trademark infringement, and they also enable resellers to verify ownership. (3, 4)
4. Auto-Renewal and Subscription Services – In the case of goods and services sold via subscription/recurring billing, blockchain can help protect both sellers and consumers. Sellers can use it to prove they have obtained a customer's consent to charge their card/account on a recurring basis and demonstrate compliance with relevant laws, while consumers can prove when they have requested cancellation.(4)
5. Customer Data and Loyalty Programs – Blockchain allows retailers to save and use customer data for future orders and product recommendations without storing that data on their servers, where it could be susceptible to breaches or hacks.(3) It can also be used to tokenize loyalty and reward programs, which helps to attract customers by making it easier for them to track, redeem and/or trade points.(5)
Eaton-Cardone acknowledges that there are still questions and considerations that will need to be addressed before blockchain is fully implemented on a global, industry-wide basis, from the privacy of data stored on peer-to-peer networks to the need for a common platform to emerging legal and regulatory developments.(5) However, she is encouraged by blockchain's growing presence and progress in the retail industry, with new applications such as Provenance, IBM Food Trust and TrustChain capitalizing on its capabilities and big names like Walmart, Carrefour, De Beers, Amazon and American Express leading the way.
"Today's retail applications are proving that blockchain definitely lives up to its hype," asserted Eaton-Cardone. "Distributed ledger technology has moved from theoretical possibilities to practical uses, and the implementations we're seeing now are just the tip of the iceberg in terms of what blockchain can do for retailers. I believe blockchain has the capacity to completely reshape the retail landscape within the next five years."
Monica Eaton-Cardone frequently discusses financial technology (FinTech), fraud prevention and security best practices at industry conferences and events. She has been a featured panelist at TRUSTECH, the IATA World Financial Symposium and TRANSACT, and is also available for interviews, panelist opportunities and future speaking engagements. For more information, visit http://monicaec.com.
About Monica Eaton-Cardone:
An acclaimed entrepreneur, speaker and author, Monica Eaton-Cardone is widely recognized as a thought leader in the FinTech industry and a champion of women in technology. She established her entrepreneurial credentials upon selling her first business at the age of 19. When a subsequent eCommerce venture was plagued by revenue-leeching chargebacks and fraud, Eaton-Cardone rose to the challenge by developing a robust solution that combined human insight and agile technology. Today, her innovations are used by thousands of companies worldwide, cementing her reputation as one of the payment industry's foremost experts in risk management, chargeback mitigation and fraud prevention. As CIO of Global Risk Technologies and COO of Chargebacks911, Eaton-Cardone leverages her global platform to educate merchants on best practices in fraud prevention and to spotlight the competitive and economic advantages women can bring to the technology workforce. Her nonprofit organization, Get Paid for Grades, invests in students to inspire a new generation of innovators. Get to know Eaton-Cardone at http://monicaec.com.
1. Research and Markets. Blockchain in Retail Market by Provider, Application, Organization Size, and Region – Global Forecast to 2023; June 2018.
2. Horowitz, Jeffrey and Carl Slabicki. The Future of Payments – A Corporate Perspective; BNY Mellon report; November 2018.
3. George-Parkin, Hilary. "How Blockchain Will Allow for Fewer Counterfeit Goods and Faster Product Recalls"; Vox; October 18, 2018.
4. Cohn, Alan; Jason Weinstein; et al. "Blockchain in the Retail Industry"; BlockTribune; November 4, 2018.
5. Fleming, Christina and Jonathan Hyman. "'Blockchain: Opportunities and Challenges for Retailers"; Essential Retail; November 2, 2018.