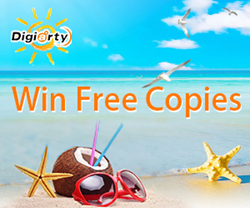 The license codes allow you to register our software for personal use and hitch-hike to exclusive contests among the readers and subscribers on your site.
(PRWEB) May 27, 2014
Digiarty Software, a developer dedicated to multimedia solutions, invites all administrators and editors to an early summer blogger giveaway called "Win Free Copy" plan. It has no entry requirement for the traffic and the nature, so anyone in charge of an effective website or a popular social media, including forum, twitter and YouTube, is qualified to be a participant who will get a certain number of copies of WinX DVD Copy Pro or others.
"The license codes provided to you allow you to register our software for personal use and hitch-hike to exclusive contests among the readers and subscribers on your site, as long as with a giveaway category or the like," said Angie, Manager of Market Department of Digiarty.
Someone might hold the view that giving something away for free does not always pay back with tons of traffics. Yes but no. Not all products bring a positive result, but good one will. Besides traffic itself, a contest helps build up the current community, as is recognized by the majority, and the same featuring a new product and service is a good way to reward loyal and enthusiastic fans, readers and email subscribers. From the perspective of the developer, posting contests on third-party websites can improve the visibility and win word-of-mouth evaluation, be it positive or negative.
The featured product for the activity in May falls on WinX DVD Copy Pro, which helps clone any of DVDs to another disc, folder or MPEG file (containing the main movie and single subtitle track), mount ISO image and burn it to DVD. It supports DVDs with Disney's Fake and bad sectors and only consumes less than 1% of CPU in the copy process on the average.
Furthermore, Digiarty urges technical writers to write high-quality software reviews and is willing to provide reciprocal links. As the supplier, it stresses on the prohibition of misusing the registration keys, such as placing them in public.
For more information about the summer blogger contest, please head to http://www.winxdvd.com/win-free-copy/.
Price and Availability
WinX DVD Copy Pro, although at the list price $49.95, is offered for free for any people owning a website, blog, forum, Facebook, Twitter or YouTube channel in May, 2014. The number of licensed copies is ranged from 5 to 50, depending on the quality of site and the subscriber/fan/follower base. A participant is required to contact media(AT)winxdvd(DOT)com by Email with the following information:
1. The URL of website, blog, forum, FB, Twitter page or YouTube;
2. The number of software copies used for hosting an exclusive giveaway.
3. The scheduled duration of the champion.
If the DVD copy software does not hit the spot, bloggers can still choose other products during the whole summer from: http://www.winxdvd.com/products.htm.
About Digiarty Software, Inc.
Digiarty Software, Inc. is specialized in multimedia software based on Windows (8.1), Mac OS (X 10.9) and iOS (7), which provides personal and home used video audio software across Apple iPhone, iPad, Sony PSP, PS3, Xbox, Droid platforms and devices, including DVD Ripper, Blu-ray Decrypter, HD Video Converter, DVD Author, and DVD Copy, etc.