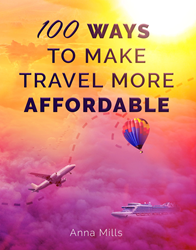 I hope this book will show everyone that you don't have to spend a lot of money or go far away to explore a new place
DETROIT (PRWEB) September 16, 2019
Anna Mills, travel expert and blogger, has announced the release of her book 100 Ways to Make Travel More Affordable. The guide is essential for anyone who wants money-saving tips on lodging, flights, transportation, food, entertainment and more. Readers can purchase the book as a paperback or an eBook via Amazon.com on September 16.
Anna, a go-to expert and founder of the daily blog AdventuresWithAnna.net, writes about adventure and luxury travel on a budget. She created this informative and easy-to-follow book to make travel more accessible to everyone. Whether it's a wanderlust traveler or financially savvy family, 100 Ways to Make Travel More Affordable offers practical ways to save for a trip and discover inexpensive accommodations, dining and entertainment deals. There's also a chapter dedicated to finding remote jobs and other employment opportunities while traveling.
"Traveling has been my greatest teacher. It can truly change the way you view the world, yourself and others," says Anna Mills, travel blogger and founder of AdventuresWithAnna.net. "I hope this book will show everyone that you don't have to spend a lot of money or go far away to explore a new place."
The book also highlights the best websites, apps and gadgets to make budgeting less stressful and more attainable. In addition to travel tips, the author includes photographs from her travels across the U.S. and overseas. Readers can connect with Anna on Instagram @adventureswithanna_ and Twitter @liltravelbaby.
About Anna Mills
Anna Mills is a travel blogger with a taste for the finer -— and crazier -— things in life. In 2018, she launched AdventuresWithAnna.net, a daily blog offering affordable adventure and luxury travel ideas. After visiting multiple countries and almost every state in the US., Anna wrote her first book 100 Ways to Make Travel More Affordable. She is a graduate of Florida State University and enjoys photography, writing and travel. For more information, visit https://www.adventureswithanna.net/.