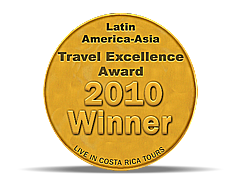 Christopher Howard is honored to be a winner of the prestigious Latin America-Asia Travel Excellence Award for the best and most unique tour in Latin America.
San Jose, Costa Rica (PRWEB) February 10, 2014
Christopher Howard, Costa Rica's most read authority on retirement and relocation in Costa Rica, has announced three new tours to his 2014 tour schedule, including a Gold Coast Tour (Guanacaste), Coffee Plantation Tour (San Ramon), and Private Customized Tours for retirees serious about retiring and living in Costa Rica.
Guanacaste "Gold Coast" Tour - Retirees will see just what they need to determine the best lifestyle for their needs. By the tour's end, potential residents will know if the Guanacaste area, or Central Valley is the place for them to retire.
Two-Day Western Central Valley Coffee Plantations Tour - This tour offers retirees an opportunity to experience the more "traditional Costa Rica" away from the larger urban areas of the Central Valley or the touristy beach towns. This special two-day tour will expose you to life in these quaint coffee towns. There will be a special emphasis on San Ramón, the hub of this area, where the pace of life is a little slower, and some of the best values in the country exist.
Private Retirement Tours and Consultations - This private tour is designed for retirees, Boomers, individuals, couples or small groups who have special needs or who can't take fixed-date retirement tours. This custom tour offers insider information and useful contacts that only Christopher Howard can provide from his 35 years of living there.
"We are very excited to offer retirees more options to participate in one of our exclusive tours," said Howard. "Our customers have consistently rated us the number one choice for retirement and relocations services in Costa Rica, and we're now in a position to help more people discover a country that so many thousands before them have fallen in love with. We're proud of the service we provide, and our standards and value proposition are among the best Costa Rica has to offer."
These new tours will be added to the award-winning tours that have made Christopher Howard the #1 retirement and relocation authority in Costa Rica.
They include the following:
Central Valley Tour - This tour thoroughly educates future retirees and Boomers about all of San Jose's suburbs such as Escazu, Cariari, Santa Ana, Alajuela, Heredia and the outlying areas that include Grecia, Atenas and San Ramon. A highly-informative two-day seminar that covers all aspects of retirement, living and relocating to Costa Rica is also included in this tour.
Pacific Beach Tour - This tour will familiarize you with the Dominical, Uvita and Ojochal beach areas in the Southern Pacific to Jacó Beach in the Central Pacific. It's ideal for potential retirees and others who want to live by the ocean in a stunning tropical setting.
Combination Tour - Retirees will be able to decide which lifestyle is best for them – the Pacific Coast, or Central Valley. The extra time on this tour provides a mix of sightseeing, interesting activities, touring homes & properties, and meeting some nice people along the way.
Add-On Tours - Central Valley, Central Pacific or Lake Arenal - These special tours are led by experienced professionals hand-picked by Christopher Howard. The tours are for those who have a serious interest in retirement, relocating or investing in Costa Rica.
In addition, all tour participants receive a free copy of the 16th edition of Christopher's best selling guidebook, "The New Golden Door to Retirement and Living in Costa Rica."
Click here for additional information, and to book a Costa Rica retirement tour.
About Christopher Howard
Christoper Howard is a 35 year resident and citizen of Costa Rica and 47-year veteran of Latin America. He is the author of 16 editions of the #1 perennial BESTSELLER "New Golden Door to Retirement and Living in Costa Rica. Christopher Howard Tours is the only retirement tour and relocation service legally approved and licensed by the Costa Rican government's tourism department since 2004.
# # #
Contact:
Mark Harai - (303) 800-0944/ mark(at)bloggerbeat(dot)com
Christopher Howard – (877) 884-2502/ christopher(at)bloggerbeat(dot)com